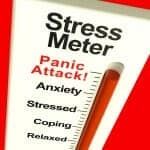 "Divorce stress" may not be recognized as a bona fide clinical condition by medical doctors, but anyone who has been through a divorce can tell you that divorce stress is real. Sleepless nights, tear-filled days, weight loss, weight gain, depression, and anxiety are just a few of the symptoms that suddenly become your normal state of being when you are going through a divorce.
Effects of Divorce Stress on the Body
All of us are familiar with the signs of stress: insomnia, inability to think clearly, loss of appetite, irritability, fatigue, nervousness, rapid heart beat, etc. What many people don't realize is that chronic stress can create much deeper health issues.
Heart disease, headaches, obesity, asthma, irritable bowel syndrome and a host of autoimmune disorders like thyroid diseases, lupus and multiple sclerosis are all stress related. While stress may not be the only cause of these illnesses, it definitely can make them all worse.
Tips for Dealing with Divorce Stress
The key to dealing with your divorce stress in a productive way is to identify (as best you can) what is causing your stress, then deal with that cause. That means you have to take some time to notice what makes you crazy. You need to figure out where your emotional triggers are so that you can start neutralizing the impact they have on you.
Top 5  Causes of Divorce Stress and How to Deal With Them
1.   Loss of Control.
This one is HUGE! When you start going through a divorce, you lose control of so many things! Suddenly you have no control over your spouse, limited control over your finances, and zero control over the divorce process. To top it off, your children are probably acting out too!
What to Do?
Step One: Figure out what you can control. ( Let me give you a hint here: Your spouse does not fall into this category!)
What else can't you control? The divorce process. The court system. Your lawyer. How everything turns out. (Sorry, but it's true.)
What can you control? Your attitude. Your actions. If your children are still young enough, you may be able to control them … at least a little bit.
Step Two: Control what you can. Whatever you can't control, try to stop worrying about. I know. It's not easy. But the truth is, if you can't control something, there is little use getting yourself in a twist about it. It doesn't help, and it won't change anything.
2.   Uncertainty About the Future.
This is a close second to loss of control. You can't help but wonder: "What if I can't find a job?," or "What if I lose all my friends?" Or, you may have concerns about your kids, like, "What if my kids end up being a mess?" You have no idea what is going to happen in your life so you keep on asking yourself, "What if …," "What if…".
The problem with asking "what if" is that there is no answer. Ever. You won't know what will happen until it does. In the meantime, the best way to answer "What if?" is to make a plan.
What to Do?
Write down what you are worried about, and brainstorm your options are for dealing with that situation. Get help from friends if you need it.
For example, if you are worried that you will have to sell your home after the divorce, talk to a realtor. Find out what your home is worth. Talk to a mortgage broker. Try to figure out whether you can really keep your house or not.
Making a plan may not change your situation, but it will give you ideas about how to deal with it. Doing just that much often eliminates a lot of the stress.
3.   Financial Insecurity. 
Divorce causes tremendous financial changes in everyone's life. Knowing what those changes are likely to be, and making a plan, will help you deal with them.
What to Do?
Step One: Make a budget. See how much money you are bringing in and paying out right now. Then make a post-divorce budget so that you can see how much money you will be bringing in and paying out after you are divorced. If you there is a gap between money and money out, you will see it. Then you can start to deal with it.
Step Two: Get help. Talk to a financial planner, or an accountant. Talk to your lawyer. Figure out what your options are. Are you going to need to get a better job? Are you going to need to cut expenses? You need to know these things. You may not be able to fix your financial situation immediately, but at least you can set yourself out on the best course possible.
4.   Concerns About Your Kids.
Nothing is more agonizing then watching your children's lives change because of your divorce.  But change does not have to cause permanent damage. You can limit your children's emotional trauma by doing a few simple things.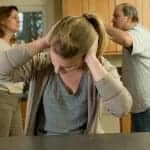 What to Do?
Step One: Don't fight with your spouse! Conflict, more than anything else, hurts children. Do your best not to argue with your spouse over the children, or in front of the children. (I know, that's not always possible. Try anyway.)
Step Two: Pay attention to your children and give them extra love. Spend as much extra time with them as you can. Listen to what they have to say. Do what you can to ease their fears and make this transition easier on them.
Step Three: Get help. Talk to your children's teachers and school counselors. Let them know what is going on and have them alert you to any changes in your children's behavior. Consider getting your child into therapy if that seems appropriate.
5.   Grief and Loss.
It doesn't matter whether you wanted to get divorce, or didn't. It doesn't matter whether you initiated the divorce, or were blind sided when your spouse hit you with the news. Ending a marriage hurts like crazy. It is a loss. You have to let yourself grieve.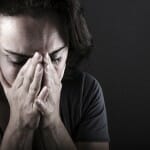 What To Do?
Step One: Be Kind to Yourself.  You are going to be sad, mad, scared and depressed. Give yourself time to feel whatever it is that you are feeling. Don't try to hide your feelings or pretend you are fine. Doing that will only make you hold on to the pain longer.
Step Two: Take care of Yourself. Eat right. Exercise. Try to get enough sleep. Start doing things that you enjoy, and do them just for yourself. Go dancing. Play basketball. Ride a motorcycle. Read a book. Learn meditation. Do whatever you need to do to take care of your body and your mind.
Step Three: Get help. This is not the time to be a hero. Get a good therapist who can help you get through this tough time in your life. If you can't afford a therapist, or don't want to use one, join a divorce support group. There are thousands of them all over the country. If that doesn't appeal to you, at the very least, put together a solid group of friends who you can count on to listen to you and help you get back on your feet.
Whatever you do, don't try to do everything yourself.