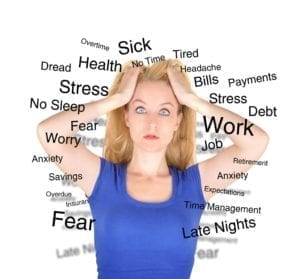 One of the things that "the experts" never warn you about when you are going through a divorce is how totally exhausted and overwhelmed you will feel while you struggle through the divorce process. Coping with divorce requires you to juggle what feels like a second job, on top of managing your real job, dealing with your kids, and attending to all of your normal activities. Oh, and  you also have to figure out where you are going to live, how you are going to survive, and where you are going to find the money to pay the bills, too!
If you feel pulled in a thousand directions and you can hardly breathe, let alone eat or sleep, you are suffering from divorce overwhelm. You have too many things to do, in too little time. For you, learning how to cope with divorce is not an option: it is a necessity!
Coping with Divorce, One Step at a Time
Before you throw your hands up in despair, or collapse from exhaustion trying to make it through your divorce, use this step-by-step guide to help you cope with all of the extra craziness that divorce brings into your life: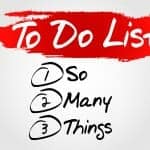 1. Make a list. Set aside one hour of "alone" time for yourself. (It's great to do this when your spouse has the kids.) Dump all of your "to dos" from your head onto the page. It doesn't matter what they are or when they have to be done. Just write down everything.
2. Group your tasks. Draw circles around everything that relates to the same subject. If you want, use different colored markers for the circles so you can easily see what tasks are in the same group. (i.e. all the kid stuff is circled in blue, the job stuff is circled in red, the stuff related to your divorce case is circled in yellow etc.)
3. Rank your list by priority. Number one should be the most important thing you have to do right now. Number everything that is urgent or important. If you have time and want to number everything else, that's fine too.
4. Make a separate list of what you would like to get in your divorce. If you could have everything you wanted, what would it be? (For purposes of this exercise "staying married" is not an option. Assume you are getting divorced.) Again, write down everything, no matter how large or small it is. You can edit later.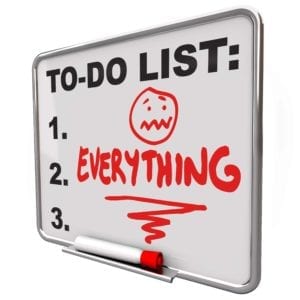 5. Group everything on that list into three categories: things you want, things you need, and things that would be nice to have but you could live without. Be honest with yourself here. You don't want or need everything!
6. Pick out the top two or (at most) three things you want and/or need out of your divorce. This one is tough because you have to weigh your wants against your needs. Take some time with this. Think about it. If I asked you what are the two or three most important things you want to have when your divorce is over, what would they be?
7. Compare your lists. Identify all of the tasks on your "To Do" list that will actually move you closer towards getting what is most important to you in your divorce. If there is something that you didn't write down that will help you achieve your ultimate divorce goals, write that down now.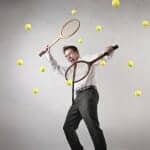 8. Start scheduling. Get out a calendar (I suggest using at least a monthly calendar) and start plotting out your schedule. Block out all of the times when you are committed to doing things (like work) that can't be moved. Be honest here. Don't block out time for dinner at 6:00pm every day unless there is a real reason that dinner must be at 6:00pm, and not 6:30. Try to maintain as much flexibility as you can.
9. Schedule your top priorities first. Schedule time to spend doing the things that will help you achieve your goals, both in your divorce and in your life. Don't schedule something to get done immediately just because it is "urgent" to someone else. Schedule what is urgent and important to you. Try to be realistic in your scheduling: if you don't even know where your financial documents are, you are not going to be able to find them, organize them, and make a budget in 20 minutes.
10. Leverage what you can, and schedule everything else by priority, not by convenience. Right now, you don't have the luxury of being able to coast through life allowing whatever gets done to get done and whatever doesn't get done to wait. When you are coping with divorce, on top of trying to manage the rest of your life, you have too many demands on your time. Try to off-load what is not important. Maybe another parent could take your kid to soccer practice this week. Maybe your best friend could help you sort through the boxes in the basement to find the documents you need. Maybe you can arrange to have some of your business meetings done virtually so you don't have to travel so much right now. Do what you need to maximize your time.
Now, you have a plan. Now you have a schedule. Now you are prepared to start coping with divorce in a more effective way. What's even more important is that, by using this 10 step process, you will be moving forward toward your actual goal, rather than spinning in circles aimlessly and hoping that, when your divorce is over, you will somehow come out all right in the end.
If you want to learn how to cope with divorce better, a good checklist telling you what you need, and reminding you about what you don't want to forget, is key.  CLICK THE BUTTON below and get your FREE DIVORCE CHECKLIST.