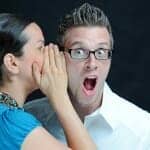 You know the feeling. That grip in the pit of your stomach. That sense of tightness and dread in the middle of your chest as you see a neighbor approaching you a fake, plastic smile fixed firmly on her face. You know what she is thinking, but what are you supposed to say? How do you tell people you are getting a divorce?
The Shame of Divorce
It is a little bit shocking that "divorce shame" is still so much a part of our world. Honestly, with a divorce rate hovering at somewhere near fifty percent of the population, you would think we would have gotten over it by now!
Yet, even in our "modern" times, telling people you are getting a divorce is akin somehow to wearing a scarlet letter. You feel branded. You feel shame. You feel like a failure. And most of all, you DON'T feel like talking about it to people you barely know! But how do you avoid those awkward conversations?
Sending out a Press Release
In times of personal crisis, it would be fabulous if, like a celebrity, you could just send out a press release that said: "My spouse and I have decided to divorce. This has been a difficult decision for both of us, but we feel it is the right one. We appreciate your concern, and ask you to respect our privacy in this difficult time."
Unfortunately, since most of us are not in the habit of sending out press releases about our personal lives, we all have to find other ways to let the world (and our nosy neighbors) know that we are having a crisis and that, while we appreciate their support, we really don't want to talk about it!
So How DO You Tell People You are Getting a Divorce?
If sending a press release is not an option, and wearing a sandwich sign saying "I'm getting divorced!" seems too bold – not to mention way too tacky and uncomfortable – the question remains: Just how do you tell people you are getting a divorce? Here are some options.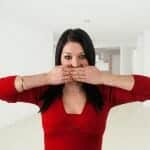 1. Say nothing and hope for the best. Yes, it's true: your divorce is nobody's business except your own, and you don't owe it to anybody to say anything. Period.
But, if you take this approach, you have to understand that it does not matter how tight-lipped you are, people will talk … and invariably they won't just talk about you, they will talk to you. So, either you have to be ready with a quick (and perhaps rather rude), canned response that shuts down the conversation ("Yes, I'm getting a divorce. So what?") or you have to steel yourself against the emotional meltdown that could come when some stranger wants to talk about your divorce at the most sensitive and inopportune moment.
2. Be honest and have a genuine conversation about what's going on. This is at the complete opposite end of the spectrum from saying nothing. It's a great strategy when it comes to your closest friends and family members. As a matter of fact, it is, the best – perhaps the only – strategy for telling your "inner circle." But this kind of conversation is way too time-consuming and emotionally draining to do with anyone other than the small group of people with whom you are really close.
3. Send a brief, informative email. This works really well for those people whom you don't know well, but who, for whatever reason, need to know your situation. This kind of email allows you to carefully craft a short, concise statement that provides basic information (i.e. you are getting divorced) and, at the same time, lets people know that you don't want to have a conversation about it. (i.e. thank you for your support and for respecting my privacy.)
The biggest challenge with sending out a mass email is deciding when and to whom you should send it. Certainly not everyone you have ever met needs to know you are getting a divorce. What's more, sending out this kind of email tends to spark conversation for awhile. So, if you are going to send out an email like this, consider doing it right before a long weekend, or at a time when you have the emotional fortitude to deal with the whispers.
4. Send a Christmas Card … Without Your Spouse in the Family Photo.  This is similar to sending an email, but, because the primary purpose of the card is to wish the recipient a happy holiday, it does not seem quite so "in your face" as an email. What's more, you can be as direct or as subtle with this as you want. You can either include one of those photocopied "what is new with the family this year" letters that casually mentions that you and your ex divorced this past year, or you can simply send the card from just you and your kids. Even without saying a word, most people will get the point.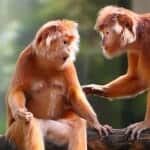 5. Get a Gatekeeper – or Two. The last thing you should do when you're going through a divorce is try to go it alone. This is definitely a time in your life when you need to circle your wagons. Hopefully, among your inner circle you have at least one close friend, family member, and/or co-worker who can be a "gossip gatekeeper" for you. That way, when your "less close" acquaintances start to prattle on about your divorce, your Gatekeeper can step in and deal with the gossip so that you don't have to do so. Saying something like, "Yes, (Insert your name here) is getting a divorce. S/he is really not up to talking about it right now. I'm sure you will agree to respect his/her privacy, right?" tends to be fairly effective.
6. Deal with Social Media.  If you use social media a lot (which is NOT a good idea during your divorce …. but I digress!) you my want or need to broach the subject of your divorce on social media.
As with the Christmas card approach, you can be direct or subtle here. If you are a woman, you can simply change back to your maiden name and deal with the questions from anyone who notices. If you are a man, or a woman who kept her maiden name while married, you can just limit your posts to stuff about yourself and your kids. Or, you can front the issue, tell people you are getting a divorce, and tell people what you would like for them to do (i.e. tell them if you would rather not talk about it.)
DO NOT post lots of negative stuff about your spouse on social media! If you have to post anything at all (which, again, I do not recommend!), keep it positive, keep it vanilla, and steer clear of anything related to your divorce.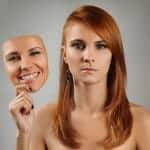 7. Create a Canned Response.  No matter who you tell or what you say about your divorce, you still will sometimes be confronted by people who either don't know about your situation, or decide that they want to talk to you about it even though you asked them not to do so. To keep these conversations from wreaking havoc with your emotional well-being, it is best if you come up with a standard response beforehand that you can use whenever the subject comes up. Try to find a way to politely convey the bare bones information, while, at the same time, also letting people know that you would rather not talk about it.
There is never a great way to tell people you are getting a divorce. But, by using these strategies, at least you may be able to find a way to effectively deflect the gossip and the judgment that so often accompanies this kind of personal crisis, while giving yourself the space to deal with your own situation in peace.