When your spouse wants a divorce and you don't, your first reaction may be to do everything in your power to stop the divorce from happening. If nothing works, and your spouse is determined to divorce you, you may be tempted to drag your feet, or to refuse to acknowledge that you are getting divorced.  Unfortunately, while engaging in denial may be natural, burying your head in the sand is generally not a good divorce strategy.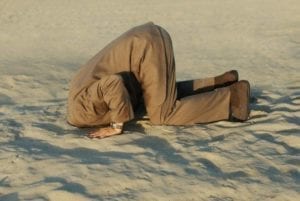 "Most men would rather deny a hard truth than face it."
George R. R. Martin, A Game of Thrones.

Coping With Divorce
Divorce is rarely easy and it is never fun. Even the most amicable divorce brings heartbreak, stress, and usually some measure of financial upheaval. But denying that you have a problem when your spouse files for divorce is like refusing to let go of the deck of the Titanic while the ship is turned sideways and sinking into the ocean. You may be able to hang on for awhile, but you're soon going to find yourself over your head in ice cold water.
Burying your head in the sand is a coping mechanism that all of us engage in from time to time. When we can't or don't want to deal with something that happens to us, we do what is easiest: we deny that the problem exists. The trouble is that denial never solves the problem. As a matter of fact, it usually makes it worse.
Denial in divorce takes many different forms: some people deny that their spouse wants a divorce. Others refuse to participate in the divorce process; they dodge service of the divorce papers, they won't get a lawyer, and they don't come to court.
Still other people get a lawyer, then refuse to communicate with their lawyer, or refuse to do what their lawyer advises. They don't produce their financial documents, they "forget" to participate in mediation, and some even refuse to comply with court orders. Then, once the case is "settled" they refuse to sign divorce papers, and drag the case on even more.
Why Burying Your Head in the Sand Doesn't Work
The problem with all of these techniques is that, although they do is delay the inevitable.  None of them will prevent a spouse who wants a divorce from getting a divorce forever. What's more, they have some really unpleasant consequences.
If you refuse to participate in your divorce, chances are that at some point you are going to be held in default. That means that the judge will grant the divorce on your spouse's terms… and those terms are not likely to be too favorable to you.
By refusing to participate in your own divorce, you may lose custody of your children, lose your right to receive support (or be ordered to pay an unreasonably high amount of support), or lose a disproportionate share of your assets.
While you may succeed in frustrating your spouse and his/her lawyer, you will also likely frustrate the judge.  That is never a good idea.
An irritated judge can hold you in contempt of court for not doing what s/he ordered you to do. The judge can also make you pay for your spouse's court costs and attorney's fees, or even throw you in jail. In short, an angry judge can make your divorce even worse than it already is.
How to Get Your Head Back on Your Shoulders
If you find yourself burying your head in the sand, and you just can't seem to find the strength to pull it out, try taking the following steps:
Get a therapist. Everyone goes through denial at times. But, if you find yourself stuck in denial for any length of time, you may need help to work your way out of it.
Get a lawyer. A lawyer can't stop your divorce from moving forward, but s/he can at least help protect you in court … at least for awhile.
Do what your lawyer asks. You can have the best lawyer on the planet, but if you don't listen to your lawyer's advice, don't return his/her phone calls, don't come to court when you are required to do so, and otherwise ignore him/her, your lawyer is not going to be able to help you.
Remember that this is your life. No matter what you do, you are going to be divorced. You can make it take longer. You can make it cost more. But, chances are, you are not going to stop it.
You can either learn to accept that fact and start building your new future, or you can stay in denial, and get buried by the past. Its your choice. Just know that burying your head in the sand is one of the worst choice you can make.
_______
Once you start engaging more in your divorce, you're going to need a checklist so you know what you will need to do.  CLICK THE BUTTON below and get your FREE DIVORCE CHECKLIST.
Send me My FREE Divorce Checklist