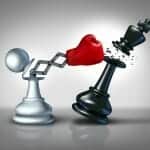 Its no secret that divorce is traumatic.  When you are going through a divorce you lose your (presumably) most intimate relationship, threaten your financial stability, and rock your children's world. Your life, your home, your identity – everything is turned upside down. But that's only part of the trauma.  The second part (the "double whammy") is that, at the same time your whole life is falling apart around you, you have to figure out and survive dealing with the legal system.  That alone, is no small task, and it makes coping with divorce way more traumatic than dealing with most other types of loss.
Coping With Divorce in the Legal System
Why is dealing with the legal system so difficult? In a word, it is not "user-friendly."
If you and your spouse decide to use collaborative law or mediation to get through your divorce you will minimize both the amount of time you have to spend in court, and the amount of drama that will be involved once you get there.  If you use the traditional divorce process (i.e. litigation), however, you will get hit with the "double whammy" of having to cope with both the trauma of the divorce, and the trauma of living through litigation … at the same time.
So, how do you do it? How do you survive your divorce and navigate through the court system at the same time?  The answer is simple: take the time to learn and understand the divorce process so that you can prepare yourself for what's coming.
While getting into a detailed explanation of the legal system is way beyond the scope of this blog, I have put together a list of events that take place in the course of a typical divorce case that are likely to make your emotions go into overdrive.  Knowing now, before you turn into an emotional cyclone, that these events are going to be painful or traumatic, gives you the time to prepare yourself for the storm before it hits.
Emotional Trigger Points of Divorce Litigation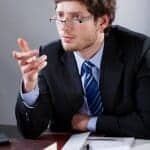 1. Your First Appointment with a Divorce Lawyer.  It doesn't matter whether you have been wanting to get divorced for years, or whether your spouse just blind-sided you by having an affair, going to a divorce lawyer's office will be traumatic.  Your head will be spinning, you will have a thousand questions, and you will probably not remember half of what the lawyer tells you.  That's normal. (It's also a good reason to bring a friend with you to your initial appointment.  Your friend can write down what was said and fill you in later about the details that you blanked out on.)
 2. Serving/Getting served with the divorce papers.  Not every divorce process begins with the service of divorce papers.  But, if your case does begin that way, the feeling you will get in the pit of your stomach when you see the divorce petition in writing is likely to make you want to throw up.  That's normal.  Even if you are the one who is having the papers served on your spouse, and not the other way around, this initial step is never a walk in the park.
 3. Seeing your spouse in the court room for the first time.  There's no getting around it.  The first time you go to court and see your spouse sitting across the room from you, arms folded, and purposely ignoring you, it will feel weird. It will be weird. It will be emotional. There's just no getting around it.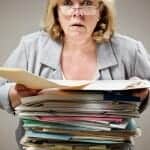 4. Receiving your first round of "discovery" requests.  "Discovery" in the legal sense is the information gathering stage of the divorce case.  This is the time when your lawyer sends you a list of documents to produce that's so long and detailed that it  rivals an IRS audit.  You will be asked to make budgets, create balance sheets, and answer detailed lists of written questions.  You will be overwhelmed.  Expect it.
 5.  Giving your deposition.  If you have never testified in court, you're in for a real treat here.  Giving your deposition makes you feel like you are on the witness stand for first degree murder.  The other lawyer will not only try to get information from you – much of which will be highly personal and perhaps embarrassing – but s/he will also have no problem implying that you are a bad parent, a horrible spouse, and an overall rotten human being.  You definitely want to have a therapy appointment scheduled for as soon after the deposition as possible.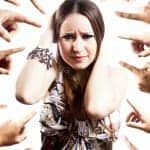 6. Participating in a custody evaluation.  If you love your children, and if you and your spouse are fighting over custody, going through a custody evaluation is very likely going to be one of the most horrible experience of your life. You will be scared to death that you are going to lose your children, and you will be afraid that you will say or do one wrong thing and the evaluator will decide that you are a terrible parent.  There's no getting around the stress that will accompany this stage of the divorce process.  While the best way to deal with it is to work out an agreement on custody so that you avoid the evaluation altogether, if you do have to go through this, make sure you spend a lot of time preparing for the evaluation with your lawyer so that you know what to expect and can put your best foot forward.
 7. Appearing for your final divorce hearing in court. There's something about knowing that your marriage is really about to be over that will just hit you like a ton of bricks when everything gets finalized.  (In some states, you may not have to go to court for your final hearing.  In Illinois, either you or your spouse must show up at the final hearing, which is called a "prove up.")  Maybe you will be happy.  Maybe you will be sad.  Very likely you will feel some mix of both. And, no matter what else you are feeling, you will probably be disappointed; the hearing itself is usually one of the most anti-climactic things you will ever experience.  Be ready to just feel empty.
Knowing the points in the divorce process which will likely trigger your emotions won't necessarily stop you from feeling those emotions, but it will help you when you are coping with your divorce.
______________
Many thanks to the Honorable Michele Lowrance, author of The Good Karma Divorce: Avoid Litigation, Turn Negative Emotions into Positive Actions, and Get On with the Rest of Your Life
, whose seminar on the Trauma of Divorce inspired this blog post.