How to Respond to Your High Conflict Ex.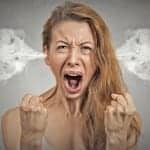 When your ex sends you a barrage of angry text messages, calling you vile names and accusing you of every horrible act known to mankind, what do you do? When you get the three page, single-spaced email rant that is filled with all kinds of half-truths and outright lies, how do you respond? You know you shouldn't let your ex get to you, but how can you help it? Dealing with difficult people (and your ex is definitely difficult) can be a real challenge.
Know Who You Are Dealing With
The first thing you have to do if your ex is pounding you with angry texts and emails is: what is really going on? Is your ex a normally rational person who is just angry over a particular situation? Is s/he emotionally volatile because of whatever is going on with your divorce? Or is your ex a high conflict personality?
Dealing with someone who has situational anger is one thing. You can let their emotions die down, address their concerns respectfully, and move on.
But, if you are dealing with a high conflict ex who blames you for everything that is wrong in the world (and everything that is wrong in his/her life) addressing his/her concerns is never enough. Why? Because whatever a high conflict ex is concerned about is not the real problem. The problem is his/her high conflict personality.
The First Question
When you are on the receiving end of a high conflict ex's angry communication – whether it comes via voice mail, email, text message or in person – the first thing you need to determine is: do I need to respond? Of course, your natural reaction may be to respond, and to fight fire with fire! Doing that will only get you burned.
If your ex sends a scathing email filled with untruths to you and to various family members, you probably have to respond. If you don't respond, your side of the story will be left untold. The lies will assumed to be true.
On the other hand, if the scathing email goes only to you, ask yourself, do you really need to respond? Does it matter? If your ex is truly a high conflict personality, nothing you say is going to change him/her. Quite the contrary, responding in anger to a high conflict ex only keeps the argument going on longer. It accomplishes nothing.
Set Boundaries
Dealing with difficult people effectively requires you to set boundaries. If your ex is truly a high conflict personality, it is probably going to be best to limit yourself to written communication. For most people, that means email. Letters are too slow and texting is too immediate. You need a form of communication that you can control.
Communicating via email also gives you the perfect opportunity to write a BIFF response.
Write a BIFF Response
Biff stands for "Brief, Informative, Friendly and Firm." It is an extremely effective way to respond to your high conflict ex.
Brief – Less is more. Keep your response simple and short. Don't respond to personal attacks. Say only what you absolutely need to say and be done.
Informative – Stick to the facts. As Sergeant Joe Friday on the old TV series Dragnet used to say when he was interviewing a crime witness: "Give me the facts ma'am. Just the facts." Correct any lies or half-truths in the original correspondence. Don't give opinions and don't speculate about what other people might do, say, or think. No matter how tempting it is, don't be sarcastic. Just deal in concrete, verifiable facts.
Friendly – Yes, friendly! I know that being "friendly" after you have just been attacked is hard. But, the more you fight back, the more you prolong the argument. Don't engage. If you respond in a friendly, or at least neutral, tone, you have a much better chance of getting a reasonably calm response back.
Firm – Be calm and confident. Just because your response is friendly, that doesn't mean you are giving in. It just means you are not allowing your emotions to run the show. So, in as non-threatening a manner as possible, tell your ex your information or position. That's it. Don't ask open-ended questions (i.e. What do you think?) that only invite further discussion.
Dealing With Difficult People (i.e. Your Ex!)
BIFF responses take a lot of the emotion out of your communication with your ex. That doesn't mean that once you start using BIFF responses with your ex that s/he will suddenly become calm and reasonable. Unless your ex has a personality transplant, that's not going to happen. But, what can happen is that you create a means of communication that allows you to manage your ex's out of control emotions in a much more effective manner. BIFF responses make dealing with difficult people a little less difficult.
___________
This article was based upon the work of Bill Eddy, LCSW, Esq. For more information about wiriting BIFF responses go to http://www.biffresponse.com/. You can also check out one of Bill Eddys many excellent books at http://highconflictinstitute.com.