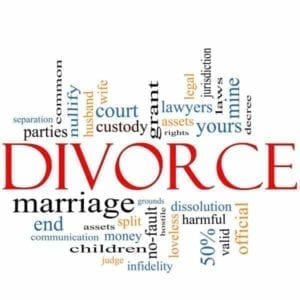 We've all heard the grim statistics about the divorce rate in the United States:

"More than 50% of all marriages will end in divorce."

"The divorce rate for couples over 65 years has doubled since 1980."

"The divorce rate for second marriages is 60%, and the divorce rate for third marriages is 73%."

Reading statistics like this either makes me feel incredibly sad, or wonderfully reassured: I am, after all, a divorce attorney. A robust divorce rate should give me life long job security. The truth, however, is that statistics can be incredibly misleading. Like everything else in life, what statistics really mean depends a lot on how you interpret them.

The truth about the divorce rate, at least according to the National Center for Health Statistics, is that the divorce rate in America is actually falling. The U.S. divorce rate peaked at around 50% in the late 1970s and early 1980s. It then declined a bit and has been holding steady at between 40 – 50%, give or take (depending on what statistics you're reading) .

What fascinates me, though, is not whether the American divorce rate is 40 %, 50%, or some other number. What fascinates me is: why do we care? I mean, unless you are a sociology professor or a marriage counselor, why does the divorce rate make any difference to you at all?

The answer, I believe, is that, as human beings, we all want to fit in. We want to know where we stand in relation to the "average" person. We don't want to be "the only one" that something bad – like divorce – happens to.

While, in the big picture, it may be comforting to know that fewer marriages are actually failing these days, if you find that you are one of the people having to deal with the trauma of divorce, that really doesn't make you feel any better. You're looking for answers, and you're looking for help.

What is positive is that there are now a whole lot more resources around to help you get through divorce than there used to be in the past. Websites like DivorcedMoms.com,  Divorce Magazine,  and Divorce Force, provide a wealth of information on all different aspects of divorce and how it affects families and children. There are lots of divorce support groups and outreach programs available to help you navigate the troubled sea of divorce. (In the Chicago area a great resource is The Lilac Tree, www.thelilactree.org. ) Certified divorce financial planners specialize in helping you understand the finances involved in your divorce. (Check out the Institute of Divorce Financial Analysts. Divorce coaches can help you get through your divorce process, and parenting co-ordinators can help you work with your spouse (or ex-spouse) when you have difficulty deciding issues related to the children. And, of course, there are plenty of divorce lawyers to help you wade through the court system.

In short, there is a whole sea of resources available to help you. Regardless of whether the divorce rate for the rest of the population is rising or falling, if you're getting divorced and you need help, all you have to do is look around you. Help is everywhere. You are not alone.

__________________________
If you want to read a fascinating article about divorce statistics, what "average" is, and what that means, take a look at:

http://www.nytimes.com/2013/05/26/opinion/sunday/when-numbers-mislead.html?_r.