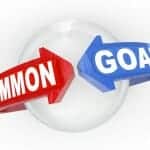 Do you want to try to settle your divorce case yourself, without racking up thousands of dollars in attorney's fees and going through expensive and exhausting litigation? Contrary to what most people believe, it is possible to settle your divorce case on your own. Even if you already have an attorney who is representing you in your divorce, you can still sit down with your spouse and try to hammer out an agreement yourselves, then give that agreement to your lawyer to write up into a legally binding document.

Of course, settling your own case isn't easy, and its not for everyone. But, if you can do it, it will save you a lot of time and money. What's more, even if you don't manage to settle your entire case, if you can at least work out an agreement on some issues, that is still less for you to have to deal with in court.

If you are thinking of trying to settle your divorce case yourself, here are a few simple divorce negotiation strategies that will help.
Negotiation Strategy #1: Educate Yourself.

Before you can start negotiating anything in your divorce, you have to be familiar with your (and your spouse's) financial situation, and you have to have at least a working knowledge of what kind of an agreement the law will allow you to make. For example, sometimes people try to negotiate parenting time in exchange for child support. That is, one parent says, "I'll agree not to ask you for child support if you agree to stay out of my life and never see the kids again." That kind of agreement just won't fly! It's against public policy and no judge (at least no Illinois judge) will allow parties to make that kind of an agreement. So, before you start negotiating, you have to know what agreements the law will, and will not, allow you to make.

Negotiation Strategy #2: Know What You Want

It sounds pretty simplistic, but the truth is, lots of people jump into negotiations without first taking the time to figure out what they really want. Not surprisingly, those people often end up making deals that they regret later. In order to be able to negotiate effectively, you have to have a very clear idea of exactly what you want.

Negotiation Strategy #3: Know Why You Want it.

Knowing what you want is great, but knowing why you want it gives you much more power. It also opens you up to a world of possibilities you might not have otherwise seen. What do I mean? If, for example, you know that you want to keep your house and your spouse wants to sell it, its easy for the two of you to get locked into an unproductive argument about what to do with the house. But, if you know that the reason you want to keep the house is because your child is having issues coping with the divorce and needs the stability of staying in her home for awhile, then what you have discovered is that your child's stability, not the house, is the real issue. Once you explain that to your spouse, that opens up the possibility that your spouse may agree with your reasoning, even if s/he doesn't agree that you should keep the house. Then, the two of you can start brainstorming about how you can achieve your end goal of providing stability for your child, rather than arguing over what to do with the house right now.

Negotiation Strategy #4: Know Your Deal Breakers 
Everyone has things that they just can't live with. Maybe you can't live with your spouse having sole custody of the children. Maybe your spouse has some of your personal property that you want back, and can't live without. Maybe you need money to live on, and can't think of settling unless you get spousal support. Or maybe you absolutely will not pay spousal support. (Although, before you can have deal breakers related to any kind of support, you should consult with a divorce attorney first and make sure that what you want to do is legally possible.) The bottom line is this: know from the start what you won't give in on – just make sure that you don't have a thousand "deal breakers." If you do, negotiating any settlement will quickly become impossible. 
Negotiation Strategy #5: Know What Your Spouse Wants, Why Your Spouse Wants it, and What Your Spouse's Deal Breakers are Likely to Be.

Negotiation is a two way street. In order to be able to settle your case, you are going to make sure that both you AND your spouse get as much of what you want as possible. (What? I have to think about what my spouse wants?) Yes! Even if you are negotiating for yourself, you are not going to give up everything that is important to you just to settle the case. The same thing is true for your spouse. Remember: I get everything, you get nothing is NOT negotiation! Knowing what your spouse wants and doesn't want will give you valuable insight into your spouse's psyche, and will allow you to brainstorm creative ways of settling your differences that satisfy as much of everyone's needs as possible.

Negotiation Strategy #6: If Your Negotiation Deteriorates Into an Argument, Take a Break.

Arguing accomplishes nothing. It actually does more harm than good. After you and your spouse have just had a screaming match with each other, you may not be able to stay in the same room together, let alone continue to talk nicely to each other. So, when you see that things are starting to go downhill, it is much wiser to take a break, walk away, then come back later, when everyone's emotions have calmed down.

Negotiation Strategy #7: Check Your Emotions at the Door. 
I know. Easier said than done. But, if you start the negotiation with a clear goal in mind, and you know what you want and don't want, and you focus on your end game, you will have a better chance of keeping the discussion calm. When you feel that your spouse is tripping your triggers, stop, take a few deep breaths and re-focus on what you're doing. Why are you negotiating this way at all? Chances are you are trying to save time and money and stay out of court. Think about that when you feel your temperature rising, then consciously breathe and try to cool down. Take a break if you need it. Then come back and start talking again when you are ready.
Negotiation isn't easy, and divorcing couples can't always do it themselves. That's why using a mediator, or lawyers, to facilitate the process is often necessary. But, if you use these strategies,

you at least have a shot at moving your case forward in a way that saves you time and money, and often allows you to come up with a settlement that meets your needs much more than anything anyone else could have created.