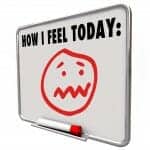 What do you do when your spouse has an affair, your marriage is on the rocks, your kids are acting out and your entire life seems to be falling apart right before your eyes … and you can't stop it? How do you deal with the anguish, the anger, the loneliness, the shame, the betrayal, the grief, and the thousand other emotions that go along with getting divorced? Coping with divorce isn't a "one size fits all" proposition. But there is one secret weapon for coping with divorce that you have that you might not have thought about that can really help when you are coping with divorce: laughter.
A Secret Weapon for Coping with Divorce? Are You Serious?!!!
Ok. Laughing during your divorce seems a lot like laughing at a funeral – wildly inappropriate and definitely disrespectful. Or is it?
Research has shown time and again that laughter is the best medicine for a whole host of ailments. Laughter relaxes your body, boosts your immune system, increases blood flow and releases endorphins – the body's "feel good" chemicals. What could be better than allowing yourself to feel good (at least for a few minutes) while you're coping with divorce?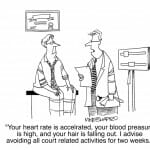 How Am I Supposed to Laugh When All I Want to Do Is Cry?
Yes, I know. The last thing you feel like doing when you're in the midst of an ugly or painful divorce is laugh. I've helped hundreds of people get through their divorces over the years, and I understand how painful divorce can be. But, even when you're in pain, even when all you seem to be able to do is cry (or rant, or hide under the covers), using humor to cope with your situation can provide you with a much-needed release from the stress and pressure that goes hand in hand with getting divorced.
Of course, finding something that will actually make you laugh while you're miserable isn't easy. Finding something funny about coping with divorce is even harder. But I recently stumbled upon a great short movie about divorce that will definitely bring a smile to your face. It's called "Ending Up", by Paige Morrow Kimball.
The film is a fifteen minute comedy about divorce, friendship, and starting over. Whether you are agonizing over whether to get divorced, stressed out and coping with divorce while you're in the middle of it, or are already divorced but still mourning your loss, "Ending Up" is well worth watching. And if you find, as I did, those moments in the film that are just too funny, go ahead: laugh!
_____________
Paige Morrow Kimball is a writer, director, actor and producer. Her film writing & directing credits include: OMG! I'm Knocked Up, Slipped, Ending Up, and Play Date. Her documentary and reality credits include HBO's Project Greenlight, Fox's Boot Camp, ABC's The Oprah Winfrey Show, 16 Days of Glory, Lillehammer and many more.