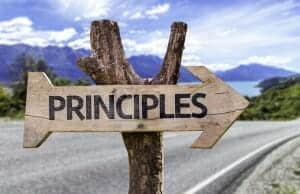 Sue Ann Hamm, the now ex-wife of billionaire oil tycoon Harold Hamm, is said to be planning to appeal the $1 billion divorce judgment she recently received from an Oklahoma judge. Apparently she is disappointed with the outcome of the case and doesn't think that it's fair … What??!!! How can one BILLION dollars not be fair? And, more importantly, if you think a divorce settlement isn't fair, should you refuse it on principle? Or, like Sue Ann Hamm, should you continue to fight?
The Elephant in the Room
Now, before we go farther, lets call out the obvious: No one is going to have a pity party for either one of these two billionaires. Honestly, if someone gave me a billion dollars, I'd be falling on my knees in thanksgiving and doing a happy dance that would put any NFL football player to shame. But, then again, I didn't marry Harold Hamm.
About the Marriage of Harold and Sue Ann Hamm
Harold and Sue Ann Hamm got married over twenty five years ago. At that time, Harold owned a majority interest in Continental Resources, an oil company worth less than $50 million. During the marriage, Harold grew the company into an $18 billion organization.
Harold's stock shares were indisputably pre-marital. He owned them before he got married, and, under Oklahoma law, they were his separate property. But, because the value of the company increased so dramatically over the years, so did the value of Harold Hamm's stock.
So, here was the legal issue: How much of the increase in the value of the stock was due to Harold Hamm's hard work and leadership, and how much was due to the rising price of oil and other factors outside of Harold Hamm's control? The answer to that question mattered because any increase in value that was attributable to Harold's work would be considered marital property. Sue Ann was entitled to a piece of that. Any increase in value due to more "passive" factors (i.e. the rising price of oil) was not marital property, and therefore would all belong to Harold.
After hearing the evidence the trial judge found that only $1.4 billion of the $18 billion in the growth of the company's value was due to Harold's effort. The rest of the increase was all "passive"… which is to say that it all belonged to Harold. (Harold, by the way, is reported to believe that the judge's ruling was completely fair and equitable.)
Was the Judge's Ruling Fair?
At first blush, most of us would wonder why on earth Sue Ann Hamm would appeal a judgment that gave her $1 billion? But, when you consider that her $1 billion was only about one sixth of the supposed combined wealth of the Hamms, you start to see a different picture. Add to that the fact that the divorce trial was closed to the public at Continental Resource's request, and that Continental's general counsel and senior vice president was allowed to sit in the jury box during the entire closed trial, and often participated in that trial even though Continental was not a party to the case, and the plot thickens even more. (Divorce trials that don't involve minor children are almost never closed to the public.)
Why Do You Care?
Ok. So, back to the original question: if you think a divorce settlement being offered to you isn't fair, do you refuse it on principle? If, like Sue Ann Hamm, you go all the way to trial and you don't like the judge's verdict, do you stand on principle and appeal? Or do you take what you can get and just move on with your life?
The answer, like the answer to so many other divorce questions is: it depends.
Your Divorce Settlement: Standing on Principle
"Standing on principle," seems so honorable. It seems like the "right" thing to do. It is, after all, what almost every movie hero does; and somehow, the hero usually comes out on top. The problem, of course, is that real life is not like the movies.
There are two enormous down-sides of "standing on principle:"
There are two sides to every story. The "facts" as you see them may be entirely different from the "facts" as your ex (and the judge) sees them! So, what you perceive as "standing on principle" may seem to others as simply unreasonable.
Standing on Principle is Expensive. Even if you are not worth a billion dollars, going to trial costs a lot of money. The average divorce lawyer charges $200 – 500 per hour. A lawyer working on a trial spends at least 10 hours per day working on the case. Plus the lawyer has to spend countless hours preparing for trial. Appeals cost even more. Most lawyers I know won't even consider taking an appeal without receiving an initial retainer of $10,000. Add it all up, and its easy to see that "standing on principle" is anything but cheap.
What's the Answer?
So, am I telling you that if you are in the process of negotiating a divorce settlement with your soon-to-be-ex, you should take whatever ridiculous offer s/he makes just to be done with the case and move on? Am I telling you to be a doormat? No! Absolutely not. Fortunately, there is a middle ground.
Ask the Right Questions
Whenever you have to evaluate any position in your divorce case, or whenever you have to decide whether you should accept any proposed divorce settlement or not, you have to ask yourself three very important questions:
1. Is what is being offered objectively reasonable? Try to look at your case as an independent, neutral person. (Yes, I know. Easier said than done.) Look at ALL of the facts. Don't just see the facts that you think are important. Don't color what you see with your own opinions of what you think is "right" or "wrong." Look at everything, and look at everything as objectively as possible. Then, ask yourself: is this proposed divorce settlement reasonable?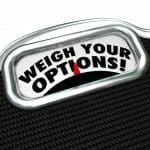 2. What are the costs and what are the benefits of whatever is being proposed? Fighting costs money. Fighting costs time and energy. Fighting takes an emotional toll. If you continue to fight, what is it going to cost you, on every level? At the same time, if you don't fight, what do you stand to lose? What do you stand to gain? What is the fight worth to you?
3. What can you live with? Look at the best and worst possible outcomes you could get. Decide what you are willing to risk to get your best outcome and what you are willing to do to avoid your worst outcome. Try to figure out where you are willing to settle between those two extremes. Then, analyze any proposed divorce settlement with that continuum in mind.
The question of whether you should stand on principle in any given case, or on any particular issue, is a personal one. In most cases, there is no right or wrong answer. Only you know whether it makes sense for you to settle, or go to trial. If you lose at trial, only you know whether you should appeal.
As for Sue Ann Hamm, it seems that she has made her decision. In time, we will find out whether she is able to convince an Appellate Court that she is right. Only then will she know whether her principles were, in fact, worth fighting for.
____________
To read more about the Hamm divorce go to: http://news.yahoo.com/1-billion-divorce-why-harold-hamms-ex-wife-132728063–finance.html