The papers have been signed.  The judgment has been entered.  Your divorce is final.
Now what?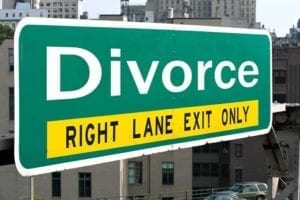 Your Divorce May be Final, But You're Not Done!
Going through a divorce is exhausting on every level. The day your divorce is finally over, you just want to put it behind you.
That's normal.
Unfortunately, un-coupling takes time, effort, and energy. Getting divorced is just one step in the process of re-establishing yourself as a free agent.
You still have to divide up your assets, separate your stuff, deal with your debts and start re-establishing your own credit, You also need to separate everything related to your kids.
Plus, you need to make sure that, if you got hit by a bus and died tomorrow, all of the assets that you just got in your divorce, won't just go right back to your ex! (Unless, of course, that's what you!)
Unfortunately, separating all of these things takes work. None of it happens automatically, just because you're divorced. So, even though the last thing you feel like doing after your divorce is more paperwork, that's exactly what you have to do. (Sorry!)
What's worse is that, even though you may be able to figure out some of the things you are supposed to do after your divorce, you're not sure you know everything! While it would be great to find a post-divorce checklist to tell you what you need to do, that's something not a lot of lawyers give you.
Won't My Divorce Lawyer Take Care of All This?
Traditional divorce lawyers are focused on the divorce process.  They are usually pretty good at fighting for you while your case is pending, and negotiating what you will get when your case is over.
But after divorce, once your case is done, usually so is your lawyer.  It's up to you to make sure that what your divorce judgment says is supposed to happen actually does happen.
That means that you are the one who has to change titles, separate bank accounts, cancel credit cards, and attend to the thousand other picky details of dividing up your finances. You are the one (if you are a woman and you choose to do so) who has to change your name everywhere.
You are the one who needs to make sure that the entire world knows you are divorced, and treats you like a single person from this point forward.
In other words, with or without a post-divorce checklist, you are the one who has to figure this stuff out.
(But, Click Here to get your FREE Post-Divorce Checklist NOW!)
What You Have to Do After Your Divorce is Final
The best way to start separating your life and your finances after your divorce is final is to start by making a list.
Go through your divorce judgment and make a detailed list of every deadline. Write them all in your calendar now! Also note everything you are supposed to divide: bank accounts, retirement accounts, personal property, real estate, cars, cash, credit cards, etc.
Next, add to your list the things that aren't in your divorce judgment that still need to be changed after your divorce. This includes Wills, powers of attorney, life insurance beneficiaries, health insurance coverage, etc.
When you're trying to think about what you should divide, it helps to group things into five categories:
Assets to split;
Debt to divide and credit to separate;
Estate planning (wills, trust, powers of attorney etc.);
Kids' stuff;
Other Stuff to Remember.
Once you've made your list, prioritize it. Separate out those things you can do yourself (like changing your life insurance beneficiary, wills and powers of attorney) from those things that both you and your ex will have to do together (like closing bank accounts), or co-operate about (like transferring title to your cars, or closing joint credit cards).
Tackle the Most Important Stuff First
Once you have prioritized your list, do the most time-critical things first.
You will want to divide your bank accounts as soon as possible – even on the same day as you get divorced. The same will be true of your investment accounts. Since your account balance changes every day, dividing these accounts sooner rather than later saves arguments and headaches later.
(PRACTICAL TIP: Make sure you change all of the automatic debits and credits that are currently associated with any bank account you change or close.)
You also want to get things divided as efficiently as possible.  If both you and your ex will have to be together at the same time in the same place to close an account or transfer a title, you will want to find that out in advance so that you can do all of the "together" stuff in the same day.
It would be helpful if you could gather up all of the transfer forms – things like the forms to transfer title to vehicles, change of beneficiary forms, etc., before your divorce. Then you will have everything ready to go as soon as your divorce is final.
Splitting Your Assets
Besides bank accounts and investment accounts, you may have other assets you and your ex need to divide.
Cars, trucks, motorcycles and boats need to be re-titled. To do that, you are going to have to get the proper transfer forms from the Secretary of State or Department of Motor Vehicles. Know that some of those forms may need to be notarized. You will probably also have to pay some kind of fee to transfer titles.
Don't forget to transfer the title to your home as well.  To do that, you will need a Quit Claim Deed. Do yourself a huge favor and pay an attorney to draft a Quit Claim Deed for you. While you may be able to use a form you get online, if you do that, and you screw it up, you can jeopardize your interest in probably the most expensive thing you own.
If you and your spouse still have personal property at each other's homes, get it out as soon as possible! The more time passes, the less you will want to have your ex's stuff in your house (or vice versa).
Some Property Divisions Take Time
If your divorce judgment requires you or your ex to transfer retirement money, chances are that you are going to need a special court order called a Qualified Domestic Relations Order (QDRO) to do that. That court order can be entered before, after, or at the same time as your divorce judgment.
Your divorce attorney will probably take care of entering the QDRO and sending it to the 401(k), pension or retirement plan for you.  But don't take this for granted! Retirement plans do not automatically transfer themselves just because you got divorced. Someone has to make sure the transfer happens.
It goes without saying that you will have to pay your attorney to do this work for you. But, this is NOT something you want to do on your own!
QDROs can be very complicated. If they are not done properly, the administrator of the retirement plan will reject them. Then you have to start all over again. Paying an attorney to do your QDRO for you will almost always be your best option. Just make sure that you continue to check in with your attorney. You want to make sure that the funds actually get transferred. Unfortunately, that often takes time.
Getting a QDRO entered in court and processed by a retirement plan administrator can take months to complete. It is not something you want to let go for a long period of time. If your ex changes jobs, or drains the account, or dies, getting your money will suddenly become way more complicated.
Dividing Your Debts and Tending to Your Credit
If you haven't already done so during your divorce, you need to cancel all of your joint credit cards. Make sure to remove your spouse's name as an authorized user of all of your credit cards.
If you aren't sure whether your spouse is an authorized user on any of your credit cards – check! It's better to check now than it will be to pay a bill that your spouse has run up later, and then try to chase him/her for reimbursement.
You also want to pull your credit report. If you are an authorized user on your spouse's credit cards, make sure your spouse takes your name off of them. While you may think it doesn't matter, if your spouse doesn't pay the bill, that will affect your credit, too.
Finally, if your spouse is supposed to pay off any bills that are in your name – make sure it happens! Log into your accounts online every month. Check to see whether the proper payments are being made. Don't take anything for granted!
Estate Planning
Making a Will is usually low on everyone's list of priorities. But unless you want your ex to inherit everything you've got if you die, you need to make a new Will as soon as possible after your divorce. (Okay, the truth is, depending upon what your divorce judgment says, your ex might not really inherit everything if you died without making a new Will. But, why take any chances?!)
If you have a trust, you may need to revise some of the trust provisions based upon your new situation.
Don't forget to re-do are your powers of attorney for healthcare and for property, too. (Do you really want to have your ex making life and death decisions for you if you're in a coma in the hospital?!)
Finally, you need to change your beneficiary designations on anything that has a named beneficiary. That includes all of your life insurance policies and 401(k)s. It may include some bank accounts. If you really want to be on top of things, you can order all the forms before you are divorced, and then submit them as soon as possible once your divorce is final.
Kids' Stuff
Keeping track of what is going on with your kids is challenging enough when you are living together as a family. Once you and your ex have separate lives, knowing what your kids are doing, and when you are responsible for getting them somewhere, becomes even harder.
If you and your ex get along, setting up a joint Google calendar is probably the cheapest, easiest way for each of you to keep track of your kids school events, extracurricular activities, sports practices and social schedule.
If you and your ex don't get along, there are a lot of inexpensive or free parenting tools and apps that you can use to keep track of your kids' calendar and expenses. These tools will also track all of the emails between you and your ex. That tends to make your email exchanges much less ugly. (When everyone knows that their emails will be seen later, the emails become way more civilized.)
Other Stuff to Remember
If you don't have your own health insurance when you get divorced, put getting your own health insurance on the top of your "To Do" list. There are strict deadlines for when you can apply for health insurance. The same is true if you want to get COBRA coverage through your spouse's health insurance policy. To avoid a lapse in coverage, get your health insurance in order as soon as possible after you divorce.
Another thing you may want to do is to review your paycheck withholding amounts.  Your divorce will change your tax filing status. That means that you may now be withholding too much, or not enough, from your paychecks. To avoid a huge surprise next April 15, have your accountant look at your tax situation now. Then you can make any necessary adjustments as soon as possible.
Finally, if you haven't already changed all of your passwords for everything – do it now! (You're welcome!)
Your Post-Divorce Checklist
Getting divorced is a process. That divorce process doesn't end when your divorce judgment is entered. You have to actually make sure that all of your assets and debts actually get divided.
It's tempting to want to avoid doing any more paperwork again as soon as you are officially divorced. But, the work that comes after your divorce is just as important as everything leading up to it.
The last thing you want to do in your divorce is to make it all the way to the end, only to drop the ball before everything is really over.
_____________
Do you need a Post-Divorce Checklist? Click the button below to get your FREE Post-Divorce Checklist and discover the 21 things you need to do after your divorce is final!