Getting the right divorce resources can make a huge difference in your divorce experience and outcome. The right resources can affect your experience of divorce and your outcome. Here are some of the divorce resources that can educate and prepare you for your  divorce.
A Divorce Book Filled With Practical Advice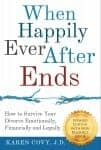 When Happily Ever After Ends: How to Survive Your Divorce Emotionally, Financially, and Legally
 gives you realistic, practical, actionable advice on how to manage every aspect of your divorce— from dealing with custody, to managing your finances, to navigating the court system, and dealing with your emotions. This divorce book is an affordable tool that will  help guide you through your divorce. It  also includes  worksheets, checklists, sample visitation schedules, and a list of other helpful divorce books, blogs, organizations and websites.
CLICK HERE
 to order your copy of When Happily Ever After Ends today!
Frequently Asked Questions about Divorce, Custody, Kids, Money and More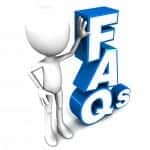 Got questions about divorce? You're not alone! Divorce can be complicated. What's even worse is that the divorce process often doesn't work the way that you think it should!
CLICK HERE to get answers to the most common divorce questions about the divorce process, grounds for divorce, division of property, child custody, child support, parenting time/visitation,  alimony/maintenance, and much, much more.
Plus, all of this information is free! CLICK HERE to find answers now.
 Divorce Videos
If reading a bunch of divorce articles isn't your thing, don't worry. I've got you covered. I've made a whole series of short divorce videos that are specifically designed to answer your most important divorce questions.
I have videos that discuss how you can decide to divorce, and make peace with your decision. There are videos about preparing for divorce  and deciding which divorce process (mediation, litigation, or collaborative divorce) might be best for you.
If you're wondering how much your divorce will cost, or how long your divorce will take, I've got you covered there too! I have videos on all of these topics, and more!
What's even better? These videos are short! In just a few minutes you can get insights that can make a huge difference in your divorce!
You can check out all the divorce videos by CLICKING HERE.
Private, Affordable, Online Divorce Program
Knowledge and preparation are the keys to getting through your divorce with the least amount of damage possible. Yet, getting reliable, practical information about how divorce really works is usually expensive and sometimes difficult. You don't know who to trust.
Going to a lawyer costs hundreds, if not thousands of dollars.
Getting advice from your friends is risky. Even if they've been through a divorce themselves, all they know about is what happened to them. Every divorce is different. What happened to them may have nothing to do with what's happening to you.
Now you have another option: The Divorce Road Map Program.
This unique online divorce resource program takes you through the divorce process step by step, one step at a time. It provides you with a framework for understanding how divorce works. It also gives you tools you can use in your own divorce to prepare yourself for what's coming ahead.
The more you know, and the better prepared you are, the more time, money and heartache you can save in your divorce. The Divorce Road Map Program is designed to give you clarity and confidence so that you not only survive your divorce, but thrive afterwards.
CLICK HERE to learn more about The Divorce Road Map Program.