I became a divorce lawyer by accident.
After having worked for a big law firm, and then for the government, I decided to open my own law practice. To get my business off the ground, I told everyone I knew that I would take any kind of case they had … except divorce!
As fate would have it, divorce cases are exactly what kept coming to me. People were in trouble. Their marriages were ending and they wanted to get through their divorce without losing everything they had.
So, I started doing divorce.
When I did, what I saw shocked me. I saw a divorce system that was expensive, inefficient and counter-productive – a system that hurt, rather than helped, families.
As an outsider to the system, I could see it didn't make sense. But, as one person, I wasn't able to change it.
So, instead, I decided to try to help the divorcing people in the system get smarter. I helped them learn to use the system, rather than let the system use them.
I tried to help people get divorced differently.
That's what I've been doing ever since.
What I Believe
I believe that life is about choices.
The choices you make during your divorce will affect the rest of your life, and your kids' lives.  But, to make the best choices, you have to know what your options are.
Most people don't know their divorce options. They don't know how the divorce system really works. They don't know what to expect. So they turn to lawyers to help them through what will likely be one of the most difficult and expensive times in their lives.
But not all lawyers are created equal.
A few lawyers will actually take the time to explain the divorce system to you. Some will make sure you understand all of your options, and will tell you the truth even if it means they make less money on you.
Most won't.
Most lawyers will protect your "rights." But they won't tell you what that protection will cost you in time, money, relationships, and heartache.
What I Do
I am a divorce adviser, divorce attorney, and a divorce coach.
While I still take Collaborative Divorce cases as a lawyer, I spend most of my time as a divorce adviser, educating and empowering people to get through their divorce with less stress, less pain and less expense. As a divorce coach and adviser, I help people understand, prepare for, and navigate through their divorce amicably and intelligently.
If you live in Illinois, and want to understand your divorce options under Illinois law, I can help you. I will meet with you, help you analyze your situation and come up with a plan to get you through your divorce in the most optimal way for you and your family.
If you live anywhere other than Illinois, I can not give you legal advice. But, as a divorce adviser and coach, I can still help you analyze the non-legal aspects of your divorce and make a plan that will help you manage your divorce as efficiently and effectively as possible. (By the way, contrary to what most lawyers will tell you, probably 80%+ of divorce is non-legal!)
If you would like to learn how you can work through your divorce with dignity and respect, contact me.
I work with people individually. I have also created an affordable online divorce program that you can use as a framework to help you get through your divorce more efficiently and effectively. To check out the program CLICK HERE.
If you are looking for a gladiator divorce lawyer to bring your spouse to his or her knees, I'm sorry. I can't help you.
That's not what I do.
If you are interested in working with me, please let me know.
Karen
P.S. Just in case you were wondering about the traditional stuff, here it is:
I graduated with honors from the University of Notre Dame Law School, then started my career at a large Chicago law firm. From there I became a Bureau Chief at the Cook County State's Attorney's Office.  After that, I opened my own law practice. I currently practice divorce law in Chicago, as well as in Cook County and Dupage County, Illinois.
Over the years, I  have also been an adjunct law professor at the John Marshall Law School and an arbitrator for the American Arbitration Association. In addition, I am also a divorce mediator and a Collaborative Divorce professional.
I am a member of the American Bar Association, The Collaborative Law Institute of Illinois, The International Association of Collaborative Professionals, and the Association of Family and Conciliatory Courts.
I write and speak about divorce a lot.
I've appeared on television, radio and podcasts. I've also created a lot of divorce videos. You can watch them for free HERE.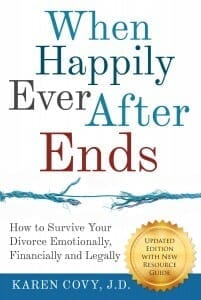 You can find my articles on The Huffington Post, The Good Men Project, Divorced Moms, Guyvorce, Your Tango, Divorce Force, Our Family Wizard, Mammamia, and here on my website.
The second edition of my book, When Happily Ever After Ends: How to Survive Your Divorce Emotionally, Financially and Legally is available on Amazon.
If you're interested in booking me to speak for your group or event, you can check out my media page HERE.
If you like what I write and want to get my articles delivered right to your inbox every week, CLICK THE BOX below! That way, you won't miss a thing!