What is a Divorce Coach?
A divorce coach is a specially trained divorce professional who can help guide you through your divorce so you can make better choices for yourself and your family.  When you are thinking about, or going through, a divorce, a divorce coach can help you understand what you are facing, understand your options, and decide what will be best for you and your kids. If you already are divorced, a divorce coach can help you deal with your ex spouse and create a new life for yourself and your kids.
Do I Need a Divorce Coach?
If you are confused about the divorce process and want to understand how it works, a divorce coach can tell you that. If you don't know how to hire and manage a divorce lawyer, and are afraid that you are going to end up with a lawyer who makes your divorce worse instead of better, a coach can help you learn to deal with your lawyer. If you are worried that you are going to end up getting financially devastated in your divorce, and want to explore how to save money in your divorce, a coach can work with you on that.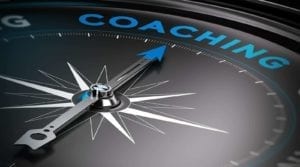 Here are some of the other things a divorce coach can help you do:
Communicate with your spouse (or ex) better
Focus on what is important to you
Decide what divorce process (divorce mediation, divorce litigation, collaborative divorce) is best for you
Get though your divorce without losing your mind
Save time and money in your divorce
Work out critical parenting issues with your spouse
Prepare for mediation
Prepare for court
Move through your divorce in a way that prepares you to create a life that you love
What a Divorce Coach is NOT
A divorce coach is not a therapist. A therapist works with you to look at your past and figure out how it has affected your present. A divorce coach takes you where you are at, right now, and helps you focus on your future.
A divorce coach is also not a lawyer (although I happen to be both). A divorce lawyer gives you legal advice and represents you in court. A divorce coach does not give you legal advice.  Even though I am both a divorce lawyer and a divorce coach, when I am working with you I can not give you legal advice. What I will give you is an experienced sounding board – someone who can help guide you through your divorce journey with confidence and clarity.
Coaching Packages
I offer several coaching packages, as well as custom-designed programs tailored specifically to your needs.  Here are the three coaching packages I am currently offering: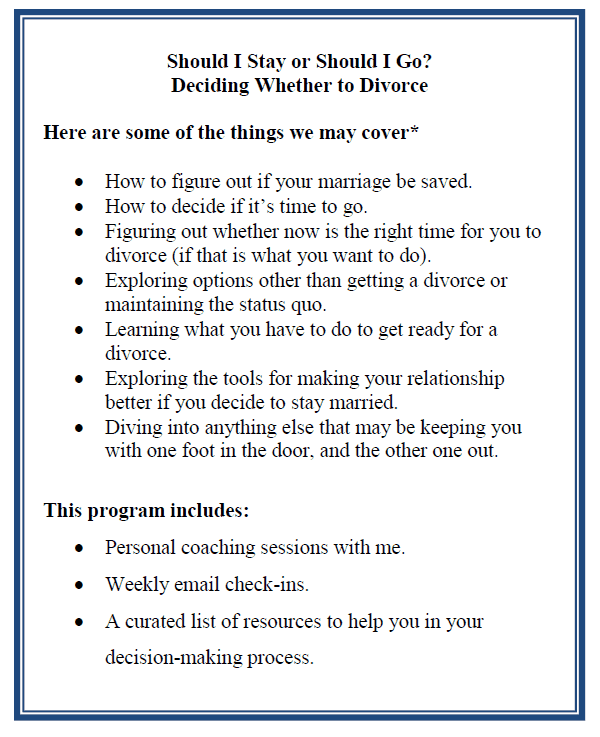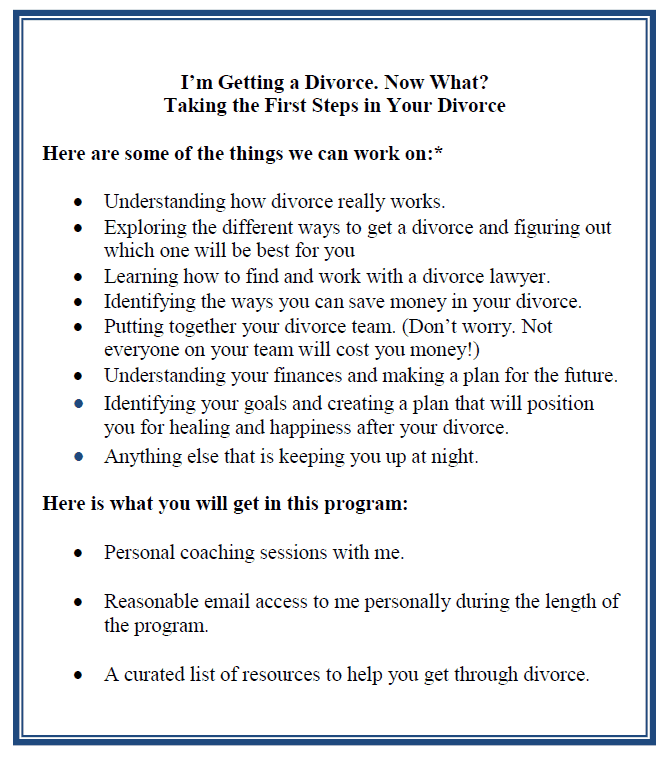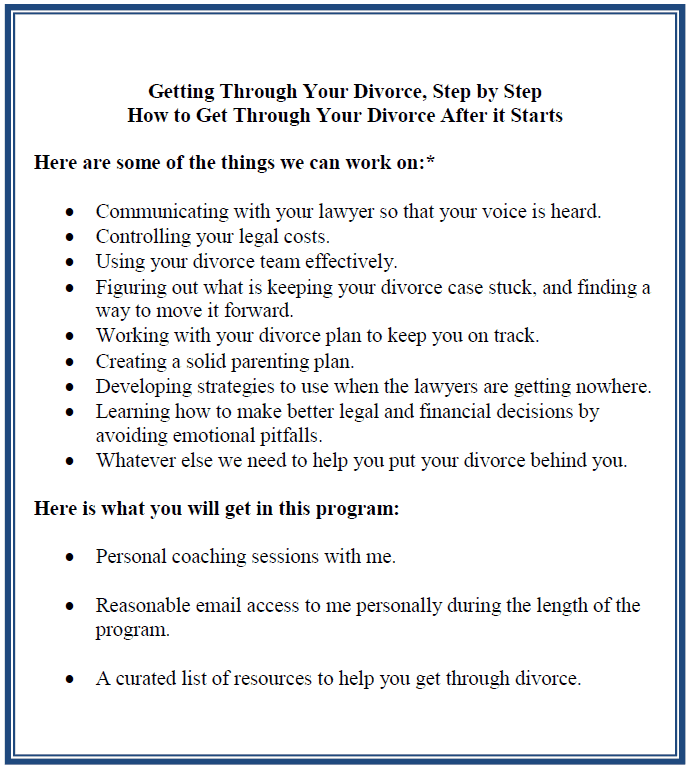 If you want to work with me, but none of these packages seems right for you, we can work together to create a custom package that will fit your needs.
Once we have worked together for awhile, you may feel the need for a quick "tune up." When something is on your mind and you just need a little help figuring out what to do, we can schedule a single "laser coaching" session. These sessions are intense, focused sessions where we drill down into a single issue or decision and help you work through it. (NOTE: Laser coaching is only available for clients I have worked with before.)
How We Can Work Together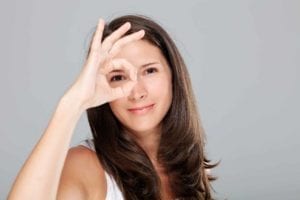 If you are interested in working with me, here is what you do.  You schedule a free 20 minute consultation with me.  We talk.
We figure out where you are now.  We talk about where you want to be. We discuss the problems you are facing, and whether divorce coaching can help you solve those problems.  We talk about what is possible.  We focus on the results you want to achieve.
Then we talk about which coaching program might be right for you, or whether we will need create a custom coaching program just for you.
If we decide to work together, we schedule our first appointment.
It is really that simple.
 Is Divorce Coaching Right for You?
If divorce coaching sounds like something that could help you, CLICK THE BUTTON BELOW to set up your FREE 20 minute strategy session. Or you can CONTACT ME via email at your convenience.