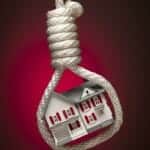 It's bad enough that, when you get divorced, life as you knew it changes forever. Your marital status changes. Your family changes. Your financial situation changes. Your emotional state changes. When everything is so up in the air, it's easy to see why you would want to keep something, at least one thing, stable. For many people, that "one thing" is their house. Their home. The "marital residence." Yet, keeping the house in a divorce isn't always the best decision. Here are six reasons why you might want to think twice about keeping the house in your divorce.

        1.    You can't keep the house if you can't afford the payments. If the total amount of the house payments, plus the real estate taxes and insurance equals more than one third of your income, you're going to have trouble making it. If you have included child support or spousal support (aka maintenance) as part of your "income" when you figured out your budget, then when the support ends, you may have an even bigger problem. Plus if, on top of making the house payments, you also have to make payments to "buy out" your spouse's share in the house, your situation can become even more precarious. All in all, before you agree to bite off a lot of payments that you may not be able chew, you want to look very carefully at whether you can realistically afford to keep the house and still have enough money left over to be able to eat, too.

        2.    There is a difference between "equity" and "net sales proceeds." Equity is the amount of value that you have in your house today. If you own a home worth $300,000, and you have a$200,000 mortgage on it, you have $100,000 of equity in it. "Net sales proceeds" means the amount of money that is left over after you sell your house, pay the mortgage, and pay off all of the closing costs. The big difference is: the closing costs. In some states, like Illinois, if you get the house in the divorce, you get the amount of "equity" in the house as of the date of the divorce. When you sell the house later, you pay all of the closing costs yourself. On the other hand, if you sell your house during the divorce, you and your spouse will divide the net sales proceeds. That means that both of you will share the closing costs.

        3.    The "cost" of your home is more than just the mortgage, taxes and insurance. You also have to figure in the cost of repairs and the upkeep of the house. If you own a condo or a townhouse, you have to include the cost of your homeowner's association dues. And those are just the monetary considerations. You also need to consider the time you spend cutting the grass, shoveling the snow, doing the yard work, and taking care of the house. The bottom line is that there is much more involved in home ownership than there is in renting an apartment. If you're not up for doing all of the extra work, or if you can't afford to spend all the money that the house requires, home ownership can be a problem.

          4.    The only way to really know what your house is worth is to sell it. I know that sounds harsh, but it also happens to be true. If you sell your house, its value is the sales price. Period. If you keep your house, someone has to put a value on it. That someone is likely going to be some sort of real estate expert – either an appraiser, or perhaps a real estate broker. These days, even well-credentialed experts can (and often do) disagree about what property is worth. True, the market is less crazy than it used to be a few years ago, but its not exactly stable either. If you use an estimate of your house's value, you have to be willing to accept the fact that your estimate, no matter how good it is, could end up being wrong.

        5.    You don't have a crystal ball. As everyone now knows, real estate values can zoom up or down more quickly than anyone used to think was possible. Ten years ago, people thought that the value of real estate could do nothing but go up. Five years ago people were praying that the value of real estate would just stop going down. These days, things seem to have stabilized. But, to think that hanging on to your house will actually be a good investment is a risky bet.

        6.    Keeping the house may mean refinancing the mortgage. If you and your spouse took out a mortgage on your home together, the only way to get your spouse's name off the mortgage will probably be to refinance or sell the property. Most mortgage companies won't just take your spouse's name off the mortgage because you are getting a divorce. While it may be possible for one of you to "assume" the mortgage in your sole name, its fairly unusual for mortgage companies to allow you to do that. So either the spouse who is keeping the house has to get a whole new mortgage (and lose whatever existing interest rate you might have) or the spouse who is not keeping the house has to agree to remain liable on the mortgage even if s/he doesn't own the property any more. That's a very unappealing idea, particularly since it will affect the non-owning spouse's ability to buy his/her own house in the future. (And, of course, if the spouse who is supposed to make the mortgage payments misses one…or two, that will negatively affect both spouses' credit rating.)

Of course, there are lots of reasons why you may want to keep the house, too. It may represent stability for your children. It may keep you in a desirable neighborhood. It may be undervalued right now and you believe that it will appreciate a lot in the future. All of those things may or may not be true. What's important, though, is that before you do anything, you really take the time and put in the effort to honestly evaluate your financial situation. Then decide, based on facts, and not emotion, whether keeping the house in your divorce is the best decision for you.

__________________

To read an interesting article about what the experts say about viewing a house as an investment, check out: http://online.wsj.com/article/SB10001424127887323949904578538012957595402.html.