To get divorced, you must first have 'grounds' for divorce. Saying you have "grounds for divorce" simply means you have a legally recognized reason to get divorced. "Irreconcilable Differences" is one such reason. Other grounds for divorce vary from state to state, but can include such things as adultery, abandonment, mental cruelty, and more.
The types of grounds for divorce that will be available to you will depend on the state you live in. Illinois used to have many different grounds for divorce. As of January 1, 2016, only one ground for divorce remains in the state of Illinois: irreconcilable differences. There is now no other way you can get divorced in Illinois, other than to get divorced based simply upon irreconcilable differences.
What Does Irreconcilable Differences Mean?
In divorce, the term "irreconcilable differences" is a broad term that basically means that you and your spouse don't get along. It doesn't have a lot of special requirements. To get divorced based upon irreconcilable differences you don't have to prove to the judge that your marriage is a mess and there is no hope it could ever be saved.  Having irreconcilable differences simply means, in your eyes (or your spouse's eyes), your marriage is broken and you believe it can not be fixed. That's it.
It is not necessarily important that both you and your spouse agree that irreconcilable differences have broken down your marriage in order for you to get divorced on that basis. So long of one of you believes that your differences are "irreconcilable," and that attempting to resolve those differences would not work, or be in either of your best interests, your marriage can be dissolved.
Don't We Have to Be Living Separately to Get Divorced?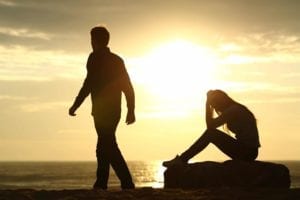 Depending upon the state in which you live, in addition to showing that irreconcilable differences exist in your marriage, you may also have to show the court that you and your spouse have been living separate and apart for a specified period of time. That amount of time can range from a few weeks to several years. Check with a divorce attorney in your state (or look up the law yourself) to find your state's separation requirements.
Illinois law used to require that parties seeking to get divorced based upon irreconcilable differences live separate and apart for a period of two year before they could get divorced. If they agreed, and waived the two year separation requirement, then couples only needed to live separate and apart for six months. Now, however, all of that has been changed.
In Illinois now, you can get divorced based upon irreconcilable differences at any time, so long as you and your spouse agree. There is no separation requirement if you and your spouse are both on board with your divorce. If not, then you need to be living separate and apart for a period of six months. That six month separation is irrebuttable proof to the court that irreconcilable differences exist.
Other Grounds for Divorce
Each state has its own list of grounds for divorce, which usually include things such as adultery, bigamy, excessive drug or alcohol abuse, mental or physical cruelty, and desertion. Each ground for divorce has certain requirements which you must satisfy in order to obtain a divorce based upon that "ground."
Some grounds require you to be separated from your spouse for a particular period of time in order to qualify for a divorce based upon those grounds. Other grounds for divorce have no separation requirement.
Each state may also have different rules for what you have to prove in order to show the court that you qualify for a divorce based upon whatever "ground" you are claiming. Before you file for divorce, it is important that you know the laws of your state so that you can file for divorce using one of the grounds for divorce that your state recognizes.
 To get your FREE Divorce Checklist, CLICK the button below.