You've finally finished your divorce. You've gone to court. You have your divorce judgment. You're done! …. or are you?

    If you have life insurance policies, or 401(k) accounts, or any other asset that has a named beneficiary who will receive that asset when you die, one of the first things you need to do after you get divorced is to update those beneficiary designations. Otherwise, when you die, those assets might just end up going to your ex-spouse after all. As a matter of fact, that's exactly what happened in the case of Hillman v. Maretta, which was argued before the United States Supreme Court yesterday.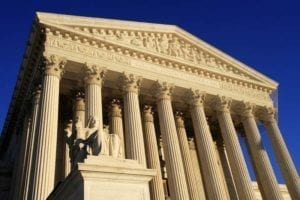 In Hillman v. Maretta, Warren Hillman, a federal employee who lived in Virginia, died, leaving both a wife, Jacqueline Hillman, and an ex-wife, Judy Maretta. He had named Judy Maretta as the beneficiary of his federal life insurance policy when they were married. He did not change that beneficiary designation after his divorce. When he died, the proceeds from the life insurance policy were paid to his ex-wife, Judy Maretta, not his then-current wife, Jacqueline Hillman.

    According to Virginia law, spouses automatically stop being the designated beneficiaries of each other's life insurance policies when they get divorced. So, if Virginia law controlled the case, the new Mrs. Hillman would have been entitled to the insurance proceeds. But, because Mr. Hillman was a federal employee, his life insurance policy was governed by a federal statute, which said that the proceeds of federal life insurance policies will be paid "in order of preference." The deceased employee's named a beneficiary was given precedence. So, under the federal law, Ms. Maretta would have been entitled to the insurance proceeds.

    The insurance company paid the proceeds of Mr. Hillman's life insurance policy to Ms. Maretta, and Ms. Hillman sued, saying she was the one who was really should have received the money. The case made it all the way to the Supreme Court, and was argued yesterday. Although the Court hasn't rendered its decision yet, the message to anyone getting a divorce is clear: don't forget to update your beneficiary designations after you get divorced! Don't leave your heirs with a mess!

    If you don't want your ex-spouse to receive the proceeds of your insurance policy, or 401(k) or any other asset with a named beneficiary after you die, you need to change that beneficiary designation while you are alive. Since none of us knows exactly when we are going to die, it just makes sense to change those beneficiary designations as soon as you can after your divorce is final.

    What if you really want to keep your ex-spouse as your designated beneficiary? What if your settlement agreement provides that you have to keep your ex-spouse named as your beneficiary for a certain period of time ( e.g. for as long as you have a support obligations) after the divorce? Then you don't have to change anything, right? Wrong!

    Many states have laws just like Virginia. Even if you want your beneficiary to stay the same, the smartest thing to do is to update your beneficiary designations after your divorce and specifically say that you name your ex-spouse as your beneficiary. That way, there can be no doubt about (and no later fight over) who you really intended to receive the money.

_________________

For more detailed information about the pending Supreme Court case, Hillman v. Maretta, see http://www.scotusblog.com/2013/04/argument-recap-looking-for-the-less-wrong-answer/.