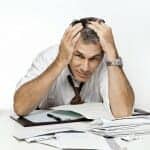 When thoughts of divorce first enter your mind, they are usually followed pretty quickly by thoughts of money.  After all, getting divorced is expensive.  What's more, its normal to be worried about how you are going to survive after the divorce is over.  In order to figure out whether you are going to be able to support yourself after you are divorced, the first thing you have to do is to learn how to make a budget.
For most people, making a budget is about as enjoyable as getting a root canal.  As a matter of fact, a recent Gallup poll showed that only about one third of Americans (at most) actually make a written budget.  When you are going through a divorce, though, learning how to make a budget is not optional – at least, not if you don't want to find yourself living out of a shopping bag after its over.
Now, here's the really bad news: Not only do you need to learn to make a budget when you're going through a divorce, but you are actually going to need to make two budgets – one that describes your finances before you divorce, and one that will show you what your finances will be like after you divorce.
So, now that you know the bad news, here is the good news: making a budget is not all that hard. Here's what you have to do.
If you use any kind of accounting software to do your bills (Quicken, Quick Books, etc.) making a budget is a breeze.  If you have never done it before, you just go to the "Reports" tab, scroll down to "Budgets" and then create a new budget.  You can either make a budget based upon your last year's income and expenses (which is what you will want to do to capture your current financial situation), or you can make one from scratch (which is what you will want to do to figure out your post-divorce finances). So, you will actually want to create both types of budgets for yourself.
If you don't use accounting software, making a budget becomes a little more labor-intensive, but its not all that hard.  What you are going to need to do is collect two types of documents: those that show any income, and those that show any expenses. If possible, you're going to need to get all of your income and expense documents for the past year. (I know! It's a lot of paper!) If you can't lay your hands on one year's worth of documents, at the very least try to get a few months worth of documents.
If you are the kind of person who charges everything on a credit card, contact your credit card company and see if they will send you a composite bill that groups your purchases by expense category: ie restaurants, entertainment, home goods, etc. If you typically pay for everything by check, you can get a lot of your expense information from your bank statements. If you use a variety of credit cards, checks, and cash, collect all of the statements for everything and just do the best you can.
After you get all of the documents you need, organize them by type: paychecks, bank statements, credit card bills, etc.  Then start with your income.  You want to list all of the money that is currently coming into your household every month: your wages, your spouse's wages, and interest you earn from the bank or any investments you have, as well as any money either of you makes at a second job, or at a side job.  Don't forget to include any bonuses or commissions you or your spouse earns.  (If you only receive them once a year, take that amount, divide it by 12, and that will give you a monthly bonus amount.) Then you have to deduct your taxes (federal, state, Medicare and Social Security) from your income.  That will show you how much cash you actually have to work with each month.
Next, you are going to list how much you spend for your various living expenses each month: ie mortgage, rent, utilities, insurance of all types, food, transportation, car payments, gas, medical bills, telephone bills, internet bills, etc., etc.  If you don't know what expenses you should list, you can Google "How to Make a Budget." There are lots of great, free examples of budget forms on the internet*.  Or, if the court system where you live has a financial disclosure statement, or an income and expense statement, or some other kind of financial information form which you will need to fill out anyway – use that.
Make sure when you are listing everything that you use monthly numbers.  That means that if you get paid every 2 weeks, you are going to have to multiply your paycheck by 26 (the number of paychecks you get in a year), then divide by 12.  That will give you your monthly income.
When calculating your expenses, you want to list your average monthly amount for each bill.  So, you may need to add up one year's worth of a certain type of bill (eg your electric bill) then divide the total by 12.  That way, you will be able to account for the fact that not all of your bills will be exactly the same amount each month.  You also want to be careful to remember to include things that you may only pay once per year – things like vacations, summer camps for the kids, or annual insurance premiums.
After you have done all that, add up your income, add up your expenses, and subtract your total expenses from your total income.  That will show whether you are spending more than you earn, or earning more than you spend.  Then, go through exactly the same exercise for the income and expenses you expect to have after you are divorced. While some of your expenses may stay the same (like your car payment) others (like your food bill) may go up or down.  Do your best to accurately estimate what each bill may be.
If you spend more than you make now, you should take a good, hard look at your income and expenses before you decide to divorce. The same thing is true if you are just making ends meet now. I'm not saying that you can't get divorced, but if you are barely getting by now, you are either going to have to make more or spend less after you get divorced.
Finally, look at your projected future budget.  If you are doing ok now, but you can see that you are going to have a monthly shortfall after you are divorced, you need to know that now.  That way, when you are negotiating with your spouse about support, or deciding who takes which asset or debt, you can make a final settlement that takes your projected shortfall into account.
Making a budget isn't hard, but it isn't fun. It's time-consuming and nerve-wracking and, well, unless you are an accountant, you are probably not going to have much fun doing it. But, in the end, like so many other difficult tasks, it will be well worth the effort.
_________
* I have included monthly income and expense forms in my book, When Happily Ever After Ends, How to Survive Your Divorce Emotionally, Financially, and Legally.  But, honestly, there are tons of free resources on the web as well.