When you are facing divorce, one of the first questions that comes to mind (after OMG, what the @&/$! am I going to do now?!!!) is, "How do I find a good lawyer?" Knowing how to choose a divorce lawyer who will provide you with the legal advice you need, at a price you can afford, and be the right fit for your situation, isn't easy. At the same time, it's one of the most important divorce decisions you will make.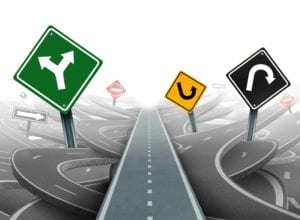 Why Choosing the Right Divorce Lawyer Matters
Every attorney has his or her own ideas, beliefs, philosophies, and ways of doing business. Every lawyer has his or her own approach to divorce.  Most importantly, every lawyer is good at some things, and not so good at others.
Some lawyers are amazing in court, but would make a total mess in a collaborative divorce. Others are great negotiators, but not particularly good trial lawyers. Some lawyers believe in mediation. Others think it's a waste of time.
Different divorce lawyers excel at handling different types of divorces. Some divorce lawyers have strong financial backgrounds and are great at sorting out complicated financial issues. Others are better at managing high conflict divorces, or divorces involving a narcissist. Still others have streamlined their practices, and are set up to help people with limited resources get a divorce efficiently and cost-effectively.
If you want to get through your divorce in the way that's best for you, you have to know how to choose a divorce lawyer who is going to be right for you.
Here are 10 tips to guide you in your search.
How to Choose a Divorce Lawyer
 1. Decide what divorce process you want to use. 
This is the FIRST decision you need to make!
You have to decide whether you want to use mediation, litigation, collaborative divorce, or some other divorce process. Then you can start looking for a divorce lawyer who is experienced in using that divorce process.
What's important is that you match the lawyer you choose with the divorce process you want. If you want to get divorced amicably, don't hire a shark attorney who will only escalate the conflict between you and your spouse. On the other hand, if your spouse has already hired a shark attorney and you're in court fighting for your life, you need to hire an attorney who can handle that level of conflict.
2. Decide what kind of legal service that you need. 
While everyone who is going through a divorce needs legal advice (at least in my humble opinion!), not everyone needs a $500 per hour big city divorce law firm on their case.
If you have a lot of assets, own companies, or have a complicated financial situation, then, yes, you may need a big law firm to represent you. At the very least, you will need an attorney who understands finances and is equipped to handle a complicated divorce.
If you have a short marriage, no kids, no real estate and are not dividing any retirement plans, hiring a big law firm may be overkill. You will pay them a lot of money when you could hire a good solo lawyer who will charge you much less. (Or, if your case is really that simple, you may not need to hire a divorce lawyer to represent you at all. Or, you may want to investigate using unbundled legal services.)
3. Figure out what you can afford. 
No one wants to pay thousands of dollars (or more) to a divorce lawyer. But, there is such a thing as being penny wise and pound foolish.
You have to balance the level of legal services that you need with the cost of the services that you can afford. And you have to be honest with yourself.
If you own multiple properties and have a six figure salary, you CAN afford a divorce lawyer. The fact that you don't want to pay a divorce lawyer is really beside the point. When you have something to lose, "cheaping out" on your divorce lawyer can cost you more than you save.
On the other hand, if you are living paycheck to paycheck, have no assets and a boatload of debt, getting an expensive, high-powered divorce lawyer is crazy! It might make you feel better. But, it might also land you in bankruptcy court too!
4. Ask around. 
The absolute best way to find a good divorce lawyer is, was, and probably always will be, word of mouth.
If you know someone who has been through a divorce in the past few years, and was satisfied with their divorce lawyer, get that lawyer's name. (Remember to ask that person what kind of divorce process they used, though. If your friend went through mediation and you are fighting The War of the Roses, you may NOT want to use their lawyer!)
Finally, if you know any lawyers who don't do divorce, ask them for a referral.  Lawyers know each other.  Your neighbor who is a real estate lawyer may be able to lead you to an excellent divorce lawyer.
5. Use the internet wisely.
Your prospective lawyer's website should tell you what s/he does, and what his/her philosophy is.  If the website talks about how the lawyer will "fight for your rights," that lawyer is likely a trial lawyer. If the website talks about divorcing amicably or staying out of court, that lawyer is more likely to work well in mediation or collaborative divorce.
Do not get sucked in by the lawyer who has the slickest website, or is paying to have their ad on the first page of Google. The lawyer with the biggest advertising budget is not necessarily the lawyer who will do the best job in your case. On the other hand, if someone gives you the name of a divorce lawyer, and that lawyer has a website that looks like it hasn't been updated since Al Gore invented the internet (or worse, the lawyer doesn't have a website at all!), that is NOT a good sign.
Finally, you want to use the internet wisely. The internet is best used for gathering information and validating referrals.  But, getting a personal referral for an attorney will always be best. If you have to use the internet to find a divorce lawyer you can. Just make sure to interview that lawyer very well.
6. Take lawyer ratings with a grain of salt. 
Lawyer rating agencies are not infallible. A lawyer who chooses not to advertise, or who doesn't participate in a particular rating site's program, may end up being rated poorly. That may be true even though s/he may be an amazing attorney.  So, it's often hard to tell if a lawyer is good or bad based solely on some lawyer rating agency.
Another complicating factor is that, due to ethical restrictions, lawyers in some states are prohibited from participating in legal rating websites. That means that they will almost always have poor ratings simply because they don't actively participate on that rating website.
When viewing lawyer ratings you also need to remember that people going through a divorce are not happy.  Sometimes, even if a lawyer does an outstanding job for them, those people complain.  Their rating of their lawyer may have more to do with them, than it does with their lawyer.
7. Find a lawyer who is experienced in family law. 
When you are getting a divorce you want to have an experienced attorney by your side.  This is not the time to hire your cousin's boyfriend's uncle who specializes in estate planning. You need a lawyer who regularly works in divorce.
Getting an experienced divorce lawyer doesn't mean that you have to hire someone who ONLY does divorce.  Some lawyers, especially those in smaller towns, often handle several different types of cases. That doesn't mean they won't handle your divorce well.  You just don't want to hire someone who only handles one divorce every couple of years.
Also, remember that you want to get a family law attorney who is experienced in the specific kind of divorce you want to use.
8. Interview at least 2 or 3 lawyers before you choose a divorce lawyer. 
Going to two or three different lawyers' offices and telling your story over and over again can be exhausting. It's tempting to want to just hire the first lawyer you meet.
Resist the temptation. Take the time to meet at least two different attorneys.
Why? Different lawyers have different perspectives.  You may get two very different views on how you should handle your case.  If you do, that's actually a good thing.  You can then think about what each attorney said. Then you can choose the attorney who uses an approach you prefer.
9. Make a list of questions to ask BEFORE you interview any one. 
It's normal to be nervous when you go talk to a lawyer. That's especially true when you're talking about something as personal as divorce. Plus, going through a divorce itself is emotional.
Your natural nervousness may make it difficult to focus when you are talking to an attorney. Once you are in an attorney's office, you may forget what you wanted to ask. You also may not remember the lawyers' answers.
To make sure you get answers to your most important questions, make a list of your questions beforehand. Writing that list when you are calmer, and can think clearly, helps.  It also helps if you bring a pen and paper with you when you interview a lawyer. Taking notes will help you remember what the lawyer said later.
10. Use Your Head But Listen to Your Gut.
The first nine tips are all important. They are  logical and rational. But, when you're trying to choose a divorce lawyer, logic isn't the only thing you need.
If you meet a divorce lawyer and the little voice in your head is screaming "Run!," do yourself a favor. Listen to it! There's probably a reason that your alarm system is going off. If you're not sure whether you're being overly sensitive, here are a few warning signs to look for.
Any lawyer who screams at you, makes you feel stupid, or makes you cry,  is probably NOT the right lawyer for you. (Unless, of course, you enjoy being screamed at. Then, by all means, hire that lawyer!)
If a lawyer takes telephone calls or texts from other clients while s/he is meeting with you, that's not a good sign. That lawyer may be too busy to give your case the attention it deserves.
If you walk out of a lawyer's office and you have that kind of nauseous, uneasy feeling that you get when something is not right, pay attention! It doesn't matter that you can't explain why you feel that way. There are plenty of divorce lawyers in the world. Go look for one who makes you feel comfortable.
Bonus Tip:  If you screw up, cut your losses quickly. 
No matter how much research you do, or how carefully you try to choose an attorney, you can still make a mistake. It actually happens more often than you might think.
If mid-way through your divorce you feel like you've chosen the wrong lawyer, don't be afraid to find a new divorce attorney.  Obviously you don't want to jump from lawyer to lawyer for no reason. But, if you find that you are not comfortable with your initial attorney, it may be best to cut your losses.
The truth is, if you are unhappy with your divorce attorney, it's best to change lawyers as early in your divorce as you can.  Once your case has been pending for months or years,  getting a new attorney becomes both more difficult and more expensive.
How to Choose a Divorce Lawyer Who Will Be Right For You
Your divorce lawyer is going to be your "navigator" in the divorce process. S/he will be the one who advises you, guides you, and gets you through the court system. No matter which divorce lawyer you choose, getting divorced still won't be painless, and it likely won't be easy. But choosing the right divorce lawyer can make your divorce experience the best it can be.
_____________
Don't know what questions to ask a prospective divorce lawyer?
CLICK THE BUTTON below and get your FREE LIST OF QUESTIONS TO ASK A DIVORCE LAWYER.