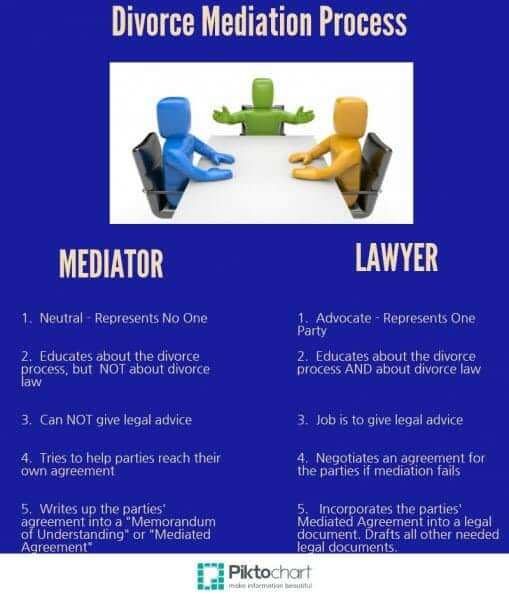 "If I'm going to mediate my divorce, why do I need a lawyer, too?"  It's a logical question. Many mediators are lawyers. If you have a mediator who is also lawyer, it makes sense to assume that you don't need to hire two people when one person alone could do the job.
Unfortunately, one person can't do both jobs.  Divorce lawyers and mediators play two entirely different roles in divorce. To understand why one person can not be both your mediator AND your lawyer (and why you should run away from anyone who tells you that s/he can do both jobs for you) you need to understand a little bit about the divorce mediation process.
The Role of a Mediator
The role of a divorce mediator is to help you and your spouse reach an agreement. To perform that role effectively, the mediator has to be completely independent.  The mediator does not represent you or your spouse. The mediator is neutral.
During the mediation process, the mediator focuses on what you and your spouse each need and want. The mediator will help you brainstorm creative options for resolving your issues with your spouse jointly, amicably, and in a way that satisfies as many of both of your needs and wants as possible.
The mediator is also not a judge.  A mediator does not, and can not, force you and your spouse to agree on anything.  S/he can only work with you and your spouse to try to help you and your spouse find common ground and settle your issues.
Once you and your spouse reach an agreement, the mediator writes up that agreement into a document that is traditionally called "A Memorandum of Understanding" or a "Mediated Settlement Agreement." You can then take that document to your lawyer and have it made a part of the final divorce documents in your case.
The Mediated Settlement Agreement is only one of the documents you need in your divorce.  It is also the only document that the mediator will write for you. All of your other documents must be written by a lawyer. (You can also write them yourself, or use an online document production service. Fair warning, though, you get what you pay for! The best legal documents at this point are going to be written by a lawyer.)
The Role of a Lawyer
The role of a lawyer in the divorce mediation process is to be your educator and your advocate.  Unlike a mediator, your lawyer is not neutral or independent.  Your lawyer represents you.
Typically, lawyers do not attend mediation sessions with you.  The only ones who are in the mediation sessions are normally you, your spouse, and the mediator. That is why it is so important that you meet with your lawyer before the mediation actually begins so your lawyer can help you understand how the law works, and what your rights and responsibilities are in your divorce.
Your lawyer will advise you about the law and will help you to understand what the law requires in your case. Your lawyer will make sure you understand the kind of result that you might have if you took your case to court. (Of course, when you go to court, there are no guarantees about what will actually happen. But, at least the lawyer will give you his/her best opinion about how things might unfold.)
Your lawyer will also help you identify your objectives for mediation.  S/he will help you figure out what you want to achieve, and also make a plan so that you can reach a settlement that gets you as much of what you want and need as possible.
If mediation is not successful, your lawyer can still continue to represent you in court.  Ultimately, since most divorce cases settle before trial, your lawyer will very likely try to negotiate a settlement for you at some point.  If your case doesn't settle, then your lawyer will try your case.
Why You Need a Mediator and a Lawyer
Because a lawyer and a mediator serve very different roles, if you are going to mediate your case, you
need both of them. Without legal advice – which the mediator can not give you – you risk settling your case without fully understanding what you are doing, orwhat you are giving up. Without legal guidance you can end up making a very bad deal, and one which you will regret for years to come.
Of course, at this point you may be wondering why you need a mediator at all.  If you are going to have to hire an attorney no matter what, then why use a mediator? Again, the answer is that you need them both because they each play very different roles.
Even though your lawyer can negotiate a settlement for you, the result you will achieve when your lawyer negotiates a settlement for you is likely to be very different from the result you will achieve if you are able to reach a settlement directly with your spouse in mediation.
The other reason that you would be well-advised to hire a mediator even if you have a lawyer is that, in the end, using a mediator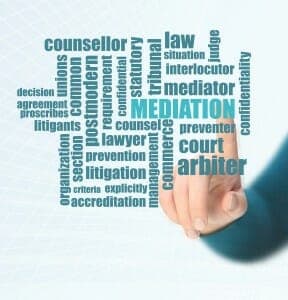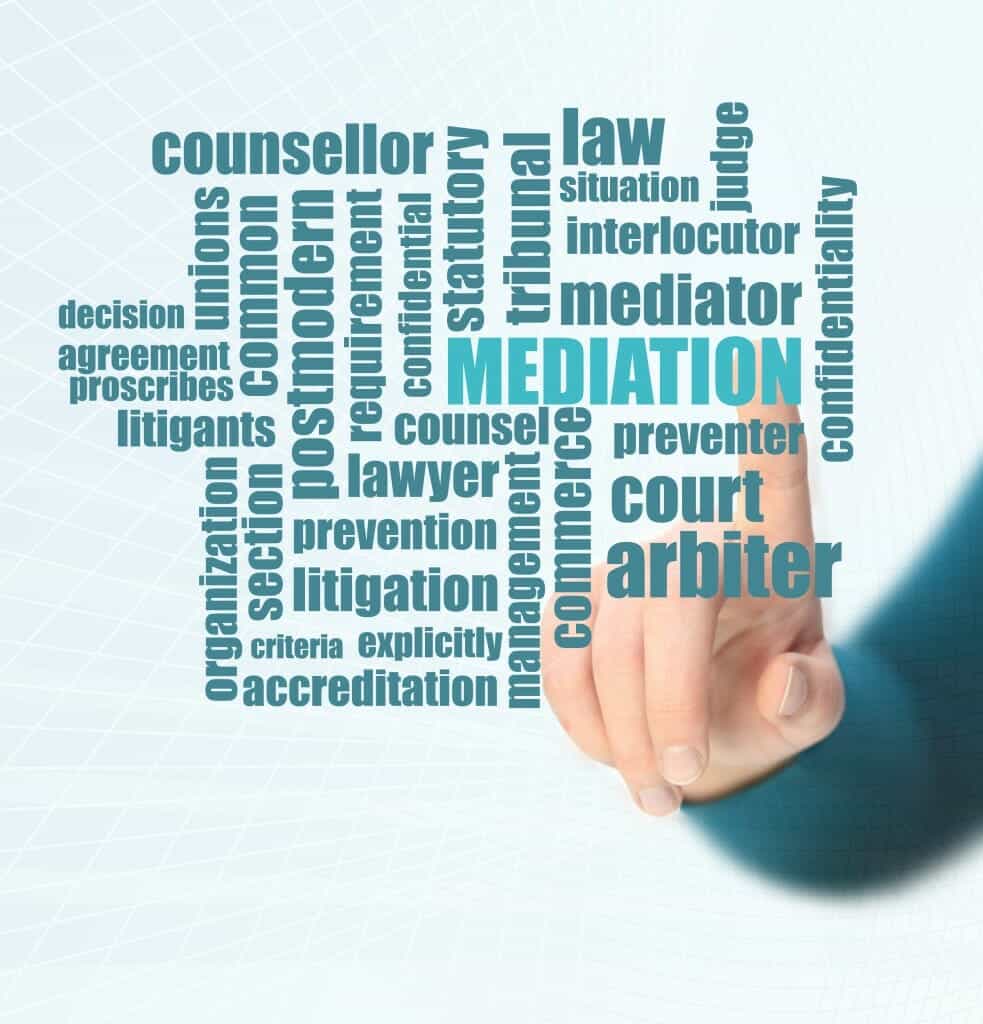 can save you money.  A mediator can usually help you and your spouse reach an agreement much more quickly than your lawyers alone would be able to do.
You and your spouse are also much more likely to abide by the agreements you make yourself.  That means that you are much less likely to return to court after your divorce to fight about a mediated agreement than you are when your lawyer negotiated an agreement for you.
All in all, while hiring a mediator and a lawyer might not be what you ever wanted to do, chances are that getting divorced is something you never thought you would do either. If you choose to use mediation to get through your divorce, hiring separate professionals to mediate your case, and advise you about your legal rights, is absolutely the smartest thing you can do.
To get a FREE chart listing the differences between mediation, negotiation, litigation and collaborative divorce, CLICK the button below
Send me MY FREE Divorce Process Comparison Chart
!