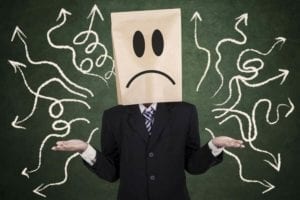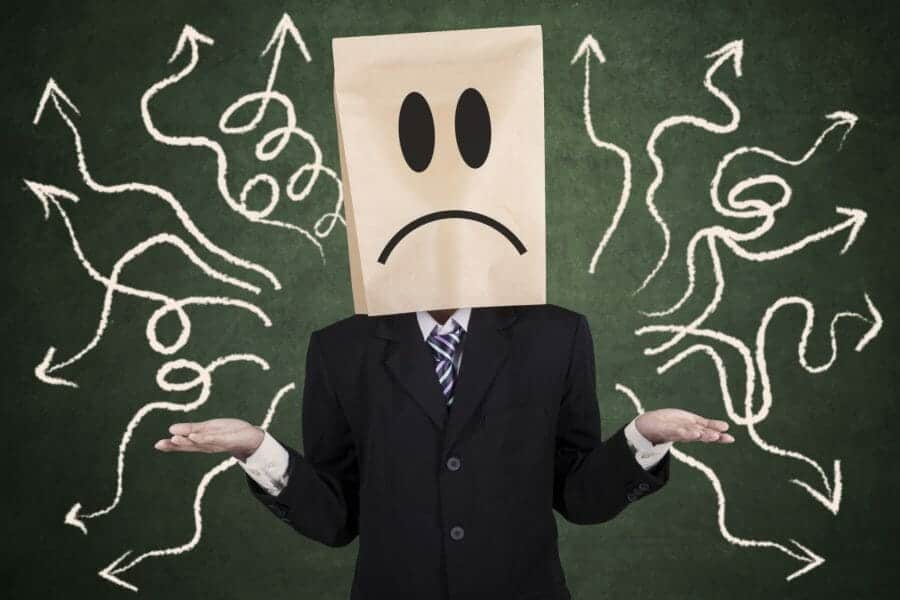 Divorce sucks for a whole lot of reasons, not the least of which is that you have no idea what to expect. So much of what happens in divorce seems unpredictable and unfair. Yet, as every divorce professional knows, even though every divorce is different, there are definite stages of divorce. There are also stages of grief in divorce. Once you understand those stages, dealing with your divorce becomes way more manageable.
The Many Stages of Divorce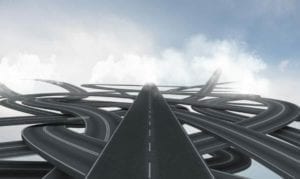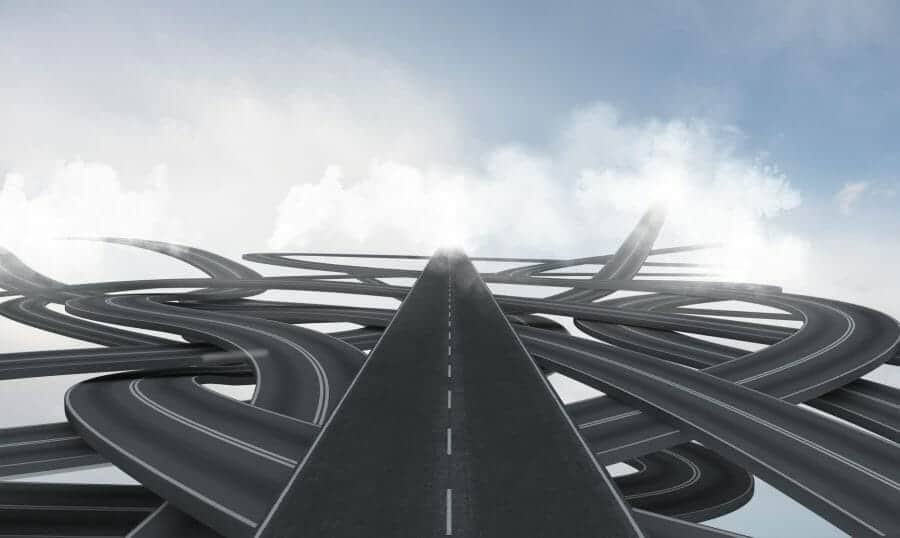 Before you can start to understand the various stages of divorce, you first have to remember that divorce is not just one thing. It is a legal process, a financial reorganization, and, above all, an emotional roller coaster.
Each of these different aspects of divorce (legal, financial and emotional) has its own very distinct, and very different, stages. The challenging part, of course, is that the legal, financial and emotional stages of divorce are all happening at the same time.
That means that, at any given moment, you can be in one stage of the legal process, a different stage of the financial process, and another stage of the emotional process.
To complicate matters even further, while the legal and financial stages of divorce tend to move in a fairly linear fashion, the emotional stages of divorce do not. You can bounce back and forth between the different emotional stages of divorce many times before you finally (hopefully) end up at acceptance.
The overlap of all of these different stages of divorce can make the whole process seem confusing. Step one in clearing up that confusion is understanding the various stages of the emotional, legal and financial aspects of divorce.
The Emotional Stages of Divorce
Divorce is like death. In a very real way, it is a death. It is the death of your marriage. It is the death of your dream of having "the perfect family." It is the death of life as you knew it to be.
If's not surprising, then, that the emotional stages of divorce often mirror the five stages of grief that you experience when a loved one dies. Divorce, however, has a couple of extra emotional stages that come from the fact that, even though your marriage may have died, you still have to deal with the person who was once your spouse.
The emotional stages of divorce are:
• Denial
In this stage, you are in shock. You may not really believe that you are going to get a divorce. If you are the one who is contemplating divorce, you may find yourself bouncing between definitely wanting a divorce, and thinking that your marriage is really not that bad. If your spouse is the one who dropped the divorce bomb on your marriage, at this point you will feel shell-shocked, numb, and confused.
• Pain/Fear
As your initial shock wears off, reality sets in … and you are terrified! You have no idea what you are facing. Everything about your life seems uncertain. You are also in serious pain. Whether your spouse betrayed you, or whether you are simply trying to wrap your head around the fact that the marriage you thought you would be in forever is now over, your pain is off-the-charts bad, and you feel it 24/7.
• Guilt
In this stage, you feel guilty about your divorce (often it was your decision or not!) You may feel guilty for cheating. You may feel guilty about what you think you could have or should have done differently in the past to save your marriage. Most of all, you also feel guilty about hurting your kids and ruining their family.
• Anger
Once you get past the shock, fear, and guilt of divorce, you get mad. You start looking for someone to blame. You may be mad at your spouse, your spouse's job, your spouse's new sweetie, your in-laws, or whomever or whatever you think contributed to the downfall of your marriage. Or, you may be mad about the mess that your life is in. In short, you are mad about pretty much everything.
• Bargaining
Once you can start to see past your anger, you are going to want to negotiate your way out of your pain. You may try promising your spouse that you will change whatever you think you need to change in order to give your marriage another chance. You may try making a deal with God. At this point, you would try anything, just to get your life back on solid ground.
• Depression
When you realize that divorce is inevitable, you may begin to feel depressed. You may not be able to get out of bed, or function normally at work. Your entire world seems dark. You either can't eat at all, or you eat everything in sight. While this kind of situational depression is completely normal, if your depression becomes severe, or lasts for a long time, you may need to seek professional help to get past it.
• Acceptance
After you have ridden through all of the emotions listed above (probably several times), you will eventually get to a point where you start to accept your situation. You will no longer dream about a perfect world where your marriage goes back to being the way that it was on your wedding day. Slowly, you will notice that you are not always in pain anymore. You will start to create a new life. You will start to be happy again.
The Legal Stages of Divorce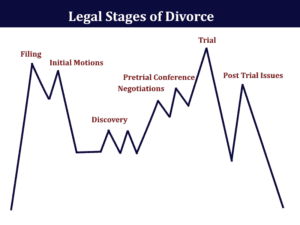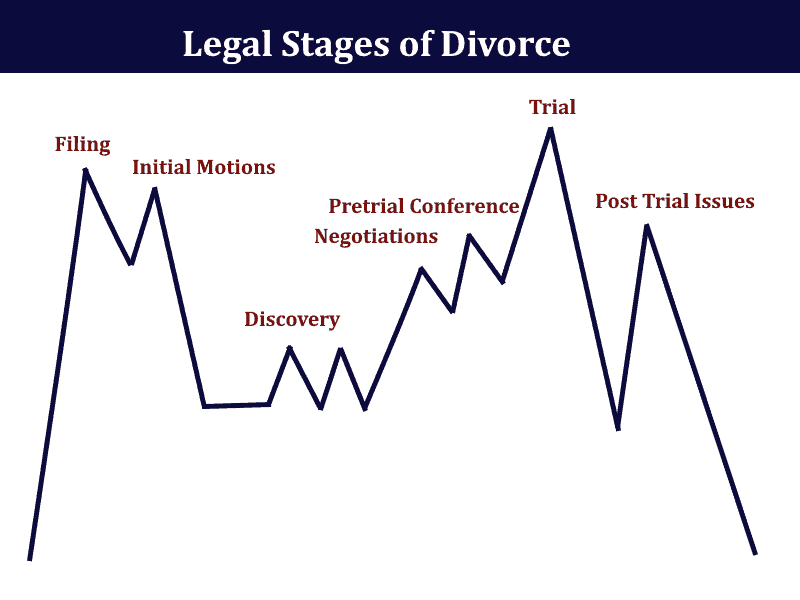 The legal stages of divorce are very different than the emotional stages of divorce. The legal stages are much more straightforward. They tend to progress in a reasonably straight line.
If you use mediation, collaborative divorce, or any other sort of alternative dispute resolution process, you may go through many of these legal stages outside of the court process. You also may skip some stages because they won't be necessary.
In general, the legal stages of divorce are:
• Filing Papers
Your divorce case officially starts when you file a Petition for Dissolution of Marriage in Court. If you are using mediation or collaborative divorce, you will probably skip this step and go right to the next step.
• Filing Initial Motions and Setting Temporary Support
The most explosive part of a divorce tends to be the beginning and the ending of the case. Divorce lawyers often file a bunch of motions right in the beginning of the case to establish who will live in the house, who will pay the bills, and what will happen to the kids until your divorce is final. If you are not litigating your divorce, you will work out all of these issues outside of court.
• Discovery 
"Discovery" is the legal word for gathering information. In this stage you will gather the information you need in order to be able to get a clear picture of your finances. If you are in court, you and your spouse will both issue and answer formal "discovery" requests (interrogatories, document production requests, and depositions). If you are using any type of alternative dispute resolution system, you and your spouse will produce all of this information voluntarily.
• Negotiation
This is the stage where you start talking about settlement. Notice, that you can't start talking about settlement until AFTER you have gathered the information you need to make a decent decision. This is true regardless of whether you are negotiating in or out of court, through your lawyers, with a mediator, in collaborative meetings, or directly with your spouse.
• Pre-Trial Conference
A pre-trial conference is a formal settlement conference that takes place in court between you, the lawyers, and the judge. Both lawyers in your case will tell the judge what's going on. The judge will then make recommendations about how your case should be settled. Although these recommendations are technically not binding, once you know what the judge is likely to do in your case, continuing on to trial is often pointless.
• Trial/Prove-up/Final Hearing
If you are litigating your case, and you don't settle, you will end up going to trial. The judge will then decide your case. If you have settled your case yourself outside of court, you and/or your lawyers will still have to go to court once – at what is usually called a final hearing or a prove-up – to ask the judge to sign your final divorce papers.
• Post Trial Issues
While most people think that their divorce ends when the divorce judgment is entered, that is not necessarily true. Dividing retirement accounts often requires more work after you are divorced. Plus, if you have had a contentious divorce, don't be surprised if you to end up right back in divorce court soon after you are divorced. (Even after your divorce is "done," there are plenty of things you can fight about!)
The Financial Stages of Divorce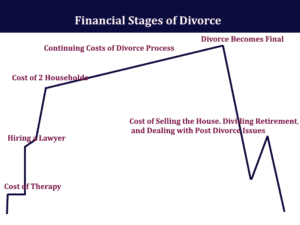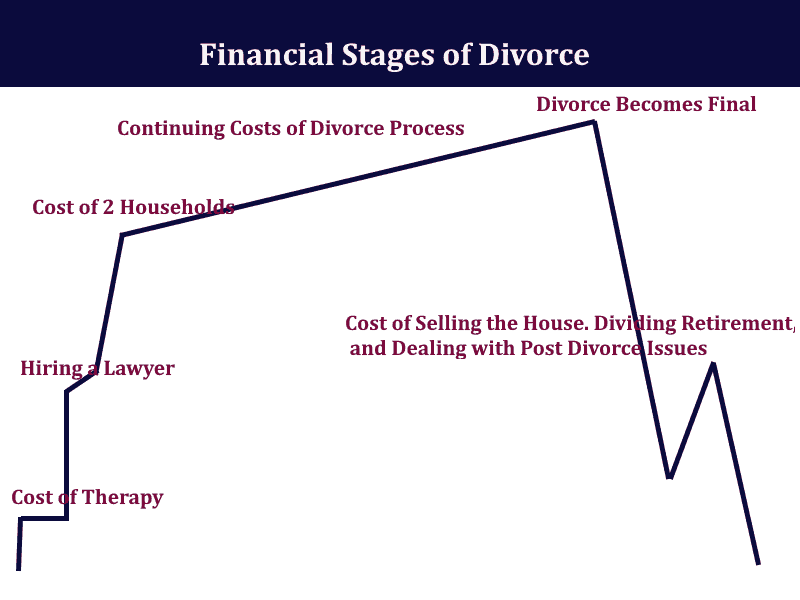 Like the legal stages of divorce, the financial stages of divorce tend to move forward in a fairly straight line. Theoretically at least, you can control the financial stages of your divorce based upon what you do and how you live. (Of course, you can't control what your spouse does, and that alone can send your divorce costs skyrocketing into the stratosphere!)
Unlike the other stages of divorce, the financial stages are cumulative. You don't necessarily get through one stage (paying a lawyer) and move to the next (moving house). Instead, you continue to pay the lawyer even after you move into separate houses. (That is why the financial graph just keeps going up until your divorce is over.)
Here are the typical financial stages of divorce: (NOTE that if you own your own business, or you have a complicated financial situation, you will go through a lot more than what is listed here.)
• Cost of Therapy
While you might be tempted to skip going to therapy because you think you can handle your emotions yourself, having a qualified mental health professional to help you through what will likely be one of the most difficult emotional periods of your life is always a good idea. Luckily, the cost of therapy is often covered by your medical insurance.
• Hiring and Paying for a Lawyer
Getting good legal advice is absolutely essential if you want to get through your divorce without losing everything. While you may be able to keep your legal costs down by doing a lot of the legwork in your divorce yourself, or by using unbundled legal services, you are still going to need some kind of legal advice.
• Cost of Two Households
Living separately while you are going through a divorce may save your sanity, but it will cost you twice as much. What's more, once someone has moved out of the house, they rarely move back in. So, as soon as you or your spouse moves out, your expenses double.
• Continuing Costs of Divorce
As your divorce drags on, your lawyer bills mount. You also may end up having to pay for someone to value your pensions, your business, and your house. The only way to stop the bleeding is to end your divorce.
• Cost of Selling the House, Dividing Retirement Accounts and Dealing with Post-Decree Issues
If you are selling your house, you will have to deal with broker's fees, closing costs and maybe repair expenses. Dividing retirement accounts after your divorce may also cost you money. And, of course, if you continue to fight in court after your divorce is over, that will cost you even more.
Navigating All of the Stages Together
While all of these different stages make divorce seem complex, they all work in fairly predictable ways. Once you know what the different stages are, you can begin to see how your divorce will go – and you will understand what effect your actions (or inaction) may have.
For example, once you know that the most explosive parts of the legal process often occur at the beginning and the end of the case, you can do your best to avoid riling up your spouse's emotions or insecurities at that particular time. Doing that only makes an already difficult legal process worse.
Once you know that the closer you get to going to trial, the more money you will be spending, you will start to see the wisdom of settling your case before you get to that point.
Knowing the stages of divorce also allows you to see how staying out of court can save you a boatload of time, money, and heartache.
Of course, understanding the various stages of divorce doesn't guarantee that your divorce will be amicable or quick. But it can help you from making costly mistakes simply because you don't know where you are at, or what is going to be coming at you next.
To make sure you understand what you need in your divorce case, CLICK THE BUTTON below and get your FREE DIVORCE CHECKLIST.