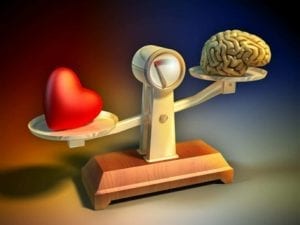 You know your marriage isn't perfect, but you don't want to just let it go. You are worried that divorce will destroy your kids' lives, but you are also worried that staying married will destroy yours. You don't want to give up on your marriage, but you are not sure there is anything left to save. You are caught in indecision hell and you have no idea how to get out. Discernment counseling may be exactly right for you.
A New Way to Get Clear
Discernment counseling is a new kind of counseling designed specifically to help couples on the brink of divorce decide whether to work on their marriage or let it go. Unlike traditional marriage counseling, which is focused on helping you solve the problems in your marriage, discernment counseling is focused on helping you decide whether you (and your spouse) want to solve those problems.
The goal of discernment counseling is not to help you stay married or get divorced. The goal is to help you decide, with confidence and clarity, what you want to do in your relationship. Discernment counseling also brings you and your spouse to a deeper understanding of what happened in your marriage, and the role each of you played in getting to where you are at now.
What if I Want Out But My Spouse Wants In? (Or Vice Versa)
If you are the spouse who is thinking of divorce, it is easy to understand why you wouldn't want to go to marriage counseling. After all, if you already have one foot out the door of your marriage, and you are not sure that working on your problems will even help, the last thing you want is to have some marriage therapist making you feel even more guilty about possibly ending your marriage. (Not that the therapist will actually do that, but that may definitely be how you feel!)
On the other hand, if you are the spouse who is trying to save your marriage, you may be desperately trying to convince your spouse to do something to give your relationship one more chance. While you may be in total favor of marriage counseling, the truth is that, if your spouse isn't committed to it, even if you go, you won't accomplish anything. Discernment counseling, however, is different.
Discernment counseling was specifically designed by Bill Doherty, PhD, with what he calls "mixed agenda" couples in mind. "Mixed agenda" couples are those where one spouse is leaning toward ending the marriage, while the other spouse is leaning toward saving it. Since the object of discernment counseling is to help you and your spouse decide what you want to do with your marriage with confidence, it can help you, no matter what decision you ultimately make.
How Does Discernment Counseling Work?
Unlike marriage counseling, discernment counseling is a short term process. It typically lasts between 1 – 5 sessions. During each 1½ to 2 hour session, the discernment counselor will work with you and your spouse individually, to help you each get clear about your own contributions to the problems in your marriage, and your vision for the future.
Kristin Hall Sliwicki, Licensed Marriage and Family Therapist and Certified Discernment Counselor, explains the difference between discernment counseling and marriage counseling this way, "Discernment counseling is a structured assessment process, not treatment."
Discernment counseling helps you understand how your marriage got to where it is now, and whether your problems can be solved. Marriage counseling helps you work on your problems so that your relationship (hopefully) improves and your marriage starts moving in the direction you want.
Who Should NOT Use Discernment Counseling
Even though discernment counseling is a great tool, and can help guide you out of indecision hell, it is not for everyone.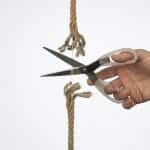 If you (or your spouse) has already decided for sure that you want a divorce, please, don't go to discernment counseling pretending that you still haven't made up your mind about what you want. Discernment counseling is not a place where you go to "let your spouse down easy" simply because you don't have the guts to tell the truth.
Can discernment counseling help even if you or your spouse definitely wants a divorce?  Yes.  It can still bring clarity about what went wrong in your marriage and help both of you take responsibility for your own contribution to the problems. Ultimately, that will help you both heal, and (hopefully) grow from your experience so you don't repeat your mistakes in your next relationship.  But, part of "taking responsibility" includes owning your truth.  If you already want a divorce, say so.  Don't play games with your spouse's heart.
Discernment counseling is not appropriate if you have been the victim of domestic violence or if your spouse is threatening you in any way. It also won't help if you (or your spouse) is unwilling to be honest and look at how each of you contributed to the problems in your marriage.
Does Discernment Counseling Make Sense for You?
Obviously, the only one who can decide whether discernment counseling makes sense for you is you – and your spouse! If you and your spouse can't agree on whether discernment counseling would be worthwhile, don't just give up! The Minnesota Couples on the Brink website has resources that you can use to help persuade your spouse to give discernment counseling a try.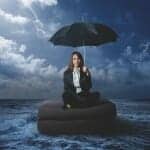 Finally, before you dive into discernment counseling, it would be wise to prepare yourself for the outcome. Remember, one of the potential results of discernment counseling is that you and your spouse figure out that you want to divorce. If you are not willing to face that possibility yet, then you may not be ready to try discernment counseling.
No matter how you do it, deciding whether to divorce is intensely painful. Even if you ultimately stay married, being that close to the edge is scary. One thing is sure though – staying on the fence for any length of time is not only painful, it's exhausting.
_____
A special thanks goes out to Kristin Hall Sliwicki, LCPC, LMFT, for her help with this article.  Kristin is in private practice in Libertyville, Illinois where she works primarily with couples and is busy spreading the word about the benefits of Discernment Counseling. www.prairielakescounseling.com.
What do you do if your spouse is the one who wants a divorce, but you don't? CLICK the button below to get your FREE E-book: "What Do You Do When Your Spouse Says: I Want a Divorce?"