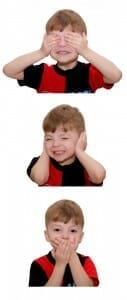 Many divorce judgments contain what is known as a "morality clause."
While there are many variations of that clause, a morality clause is essentially a provision in a divorce decree, or court order, that says that neither parent can have a romantic partner spend the night while the children are present.
A morality clause is supposed to prevent a parent from exposing their children to a "revolving door" of new boyfriends/girlfriends. However, what it often actually does is create serious problems for a divorced parent in forming new relationships long into the future.

The Morality Clause in Action
A lesbian couple in Texas discovered the power of a morality clause when one of their ex-husbands went back to court to enforce the morality provision of his divorce decree. The husband claimed that he was enforcing this provision "for the benefit of the children."
The lesbian couple objected, stating that they were providing a stable, loving home for their children. Ultimately, the judge enforced the provision. He gave the ex-wife's paramour 30 days to move out of the home they shared with the children.
The lesbian couple claims that the enforcement of this provision violated their civil rights. Texas doesn't recognize same sex marriages. Unlike heterosexual couples, they can not marry to get out from under this provision of the divorce decree.
The broader question, however, is whether the ex-wife should have signed a judgment containing this type of morality clause in the first place.

Should You Have a Morality Clause in Your Divorce Judgment?
Over the years, I've had many clients, or their spouses, insist on putting a morality clause in their divorce judgment. The reason always boils down to some variation of: "its in the children's best interest." But, is it? Are you sure?
What happens three or five or ten years after your divorce is over when you have finally gotten on with your life and are in a serious relationship with someone new? Do you marry that person just so that s/he can spend the night with you? That seems like a bad idea.
Or, what if you are planning to get married, but your fiancé sells his or her house two months before the wedding and has nowhere to go? Is your fiancé supposed to get a two month lease somewhere and move twice when, in a few months, your children are going to see you living together anyway?
Or, what if both you and your fiancé have children and you want to try spending a few weekends together as a blended family? Doesn't it make sense to try to make sure everyone gets along before you get married? That would certainly seem to be the prudent thing to do. Spending a few weekends together will actually help you discover and address any issues the children might have before you throw them into a permanent blended family.

The Problem With Morality Clauses
The problem with a morality clause is that life changes, and it doesn't.
Courts are not designed to enforce morality. They are designed to enforce laws.
When you write morality into a court order, you put the judge in an extremely difficult position. Judges don't want to know who your ex is sleeping with. They don't want to insert themselves unnecessarily into a family situation that may be working perfectly fine.
On the other hand, judges don't appreciate people ignoring their court orders. If you agreed to put a morality clause in your judgment, and you signed off on it, you can't expect to get a lot of sympathy from the judge when you discover later that it is affecting your life in ways you never dreamed about.
So, what happens when the morality in clause in your divorce judgment comes back to haunt you? That depends on where you live, and what judge you find yourself in front of. Some judges will enforce these provisions. Others will not.
If a judge does hold that you can't have your romantic partner spend the night unless you get married, your choices are pretty simple. You get married. You risk losing your kids. Or, you sleep alone. Those are your only choices.
So, do yourself a favor now.
Before you agree to have a morality clause in your judgment, think long and hard about whether that's something you really want, and are willing to live with if you become involved with someone in the future.