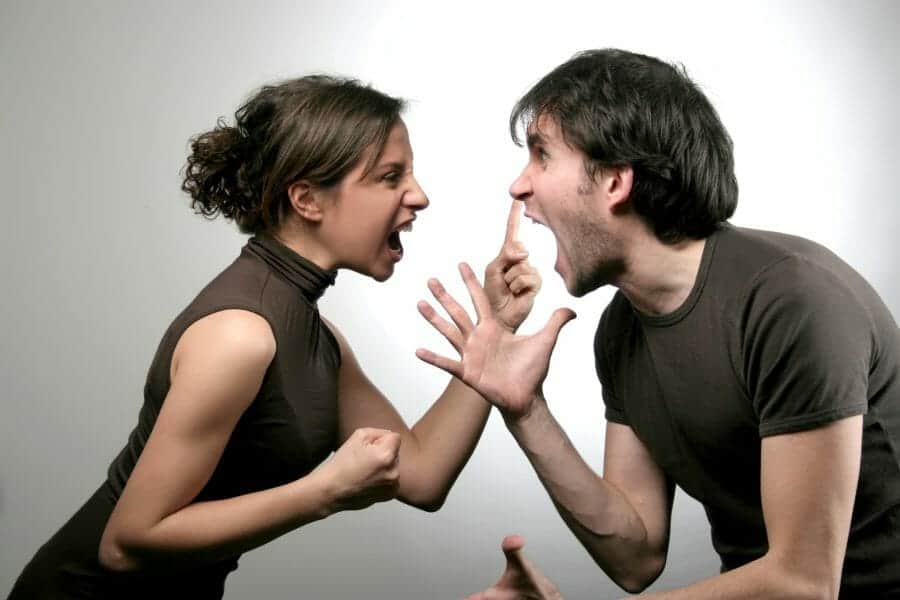 Do you avoid talking to your spouse/ex unless you absolutely have no choice because dealing with them is just so draining? Does your ex ridicule, belittle, or scream at you – for everything? Are your spouse's reactions to any conflict or disagreement way out of proportion to whatever is going on? If you answered "yes" to any of these questions, you may be dealing with a high conflict spouse.
What is a High Conflict Spouse?
A high conflict spouse is one whose behavior escalates conflict, rather than calms it. A high conflict spouse is critical, attacking, self-absorbed, and rigid.  What's more, even though your high conflict spouse will blame you for all of his/her problems, the truth is that s/he experiences a lot of conflict with a lot of other people, too.  It's not just you.
A high conflict spouse has four primary characteristics:
1. S/he has a lot of un-managed emotions. S/he has intense anger, fear, hysteria, disrespect etc. These emotions often surprise others and seem way overblown for the situation at hand.
2. S/he is prone to black and white thinking. Everything is all bad or all good. There is no grey.
3. S/he exhibits a lot of extreme behaviors. This may include physical violence, but also includes behaviors such as out-of-control yelling, obsessively contacting or stalking someone, or completely and totally ignoring someone.
4. S/he blames others for everything. A high conflict person does not take responsibility for his/her part in any conflict or misunderstanding. S/he attacks and blames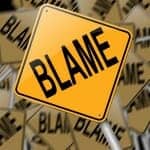 someone else with the intensity of someone whose life is on the line.
(NOTE: A high conflict spouse may also be a narcissist, or have another kind of personality disorder. But, even people without personality disorders can be high conflict spouses.)
Do You Have a High Conflict Spouse?
If you have a high conflict spouse chances are, you know it! You may not have known that there was a label for their behavior, but you have probably known for a long time that your spouse's behavior was different, more emotional and intense, than other people's behavior.
The problem with having a high conflict spouse is that, once you have finally had enough and decide to divorce them (or they decide to divorce you – it really doesn't matter because it will be all your fault anyway) their already horrible behavior only gets worse. If you thought they were manipulative, angry, critical, rigid, deceitful, self-absorbed, self-sabotaging and maybe even violent, while you were married you can only imagine what their behavior is going to be like when you start divorce!
How to Handle a High Conflict Spouse
Handling a high conflict spouse is not easy. But there are techniques you can use to reduce the conflict to a manageable level. Here are 5 tips to help you handle your high conflict spouse:
1. Minimize Contact.
If you have children, you will have to have contact with your spouse, at least until the children are adults. But, do your best to limit the contact with your spouse to only what is absolutely essential. Avoid face-to-face contact at all times. If, for whatever reason, you absolutely have to see your spouse, don't be there alone! Bring someone with you and/or arrange to see your spouse in a public place.
2. Only Communicate in Writing.
The less personal contact you have with your spouse, the easier it will be to contain the spewing venom. If possible, communicate only via email, or a co-parenting app. If you have to text, do so, but limit your texting to emergency situations involving the children. Otherwise, you may subject yourself to a constant barrage of ranting texts at all times of the day … and night.
3. Establish Written Rules.
If you are going through a divorce with a high conflict spouse, try to set down the "Rules of Engagement" as soon as possible. Establish a written visitation schedule for the kids early on, then stick to it. If you are using mediation or collaborative divorce, you can write up a simple agreement that everyone signs that will set out the financial rules during your divorce. If you are litigating, you may need to get a court order to establish those rules. Whatever you do, try to write clear, simple financial requirements that will hold your spouse accountable while the divorce is going on. Otherwise, your spouse's bad behavior is likely to be all over the boards and there won't be much you can do about it.
4. Realize that its Not About You.
When your spouse is verbally attacking you, calling you every bad name in the book, and accusing you of the sorts of atrocities that are typically only seen in war crimes tribunals, it is hard not to take it personally. What you need to understand is that, at a fundamental level, your high conflict spouse feels threatened. S/he is simply lashing out defensively to protect him/herself.  So, while your spouse's anger may be directed at you, it is really not about you. It is about your spouse. Always.
5. Don't Take the Bait!
When your high conflict spouse yells at you, and you attack back, you fan the flames of the conflict. When your spouse accuses you of all sorts of horrible things, and you try to defend yourself, you only make the situation worse.  It doesn't matter that your spouse is lying. Your spouse can't hear your explanations, or recognize that s/he may be "stretching the truth." I know it is easier said than done, but, if you can train yourself not to respond emotionally when your spouse is screaming, lying, or verbally attacking you, you will be well on your way to a more peaceful existence.
Go Easy on Yourself
Divorcing a high conflict spouse is probably one of the most difficult things you will ever have to go through. But, remember, your high conflict spouse was probably not Prince or Princess Charming while you were married either. Staying in a high conflict marriage only prolongs your stay in hell.
Use your divorce as an opportunity to learn better techniques for handling, not just your ex, but all high conflict people. Try to turn this difficult experience into one that you see as a painful time of personal growth. In time, your contact with your ex will get smaller and smaller. Your kids will grow up. You will move on. And you will find happiness and peace in a new life.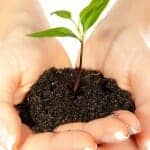 ____________
This article was based upon the work of Bill Eddy, LCSW, Esq. For more information about high conflict personalities, visit the High Conflict Institute or check out one of Bill Eddy's many excellent books:
It doesn't matter whether your divorce is high conflict or not. You need all the help you can get.  CLICK THE BUTTON below to get your FREE E-Book:
10 Rules for Managing Your High Conflict or Narcissistic Spouse in Divorce.
NOTE:  The links to the books on this page are affiliate links. If you buy these books using these links, I will get a small commission from Amazon. You are welcome to buy these books from anywhere you like. The Amazon links are just here for your convenience.