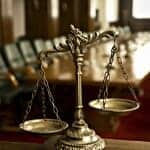 Litigation is the traditional way to get divorced. In divorce litigation, you and your spouse each hire attorneys (or not), you go to court, and you each either fight until you are exhausted and finally settle, or you go all the way through a trial and a judge decides your divorce issues for you.
The Divorce Litigation Process
While the exact path your divorce litigation will take depends upon the facts and circumstances of your case, as well as the state you live in, the judge who hears your case, and your attorney's skill and expertise, most divorce cases follow a similar trajectory.
Divorce litigation typically starts when either your attorney or your spouse's attorney files a petition for divorce in court. The filing attorney then has the divorce papers served on the other side (you or your spouse). Then the responding party files an answer to the Petition and your case begins.
There are lots of different motions or petitions (official documents asking the court to do something) that your attorney or your spouse's attorney can file. Someone may file a motion for temporary support, custody, or attorney's fees. The precise motion that get filed depends on you, your spouse, the attorneys, the law in your state, and the facts and circumstances in your case.
Discovery
Soon after the initial Petition for Divorce (or whatever that document is called in your state) a process of "discovery" begins. "Discovery" is a legal term that identifies the phase of your case in which you and your spouse both try to discover the information you need to resolve your case.
In divorce cases, discovery typically centers around collecting financial information. It can also involve obtaining information about your children, and, depending upon the laws in your state, it might also include trying to uncover information about things you or your spouse did which will affect your case (i.e. affairs, gambling, doing drugs, etc.) To find out what discovery in your case will involve, consult with a divorce attorney in your state.
Divorce Trials
At some point either you or your spouse (or both of you) either decide you've had enough and settle the case, or you go all the way to trial and let a judge decide who gets what and what happens to your kids. Depending upon where you live, and what is involved in your case, getting to trial may take several months, or several years.
You can go to trial with or without an attorney, but going to trial without an attorney is like going to surgery without a doctor. You can do it, but it's going to hurt a whole lot more. Plus, your chances of having a good outcome (especially if your spouse has a lawyer and you don't) are pretty slim.
Is Trial Inevitable?
Just because you use traditional divorce litigation to start your case, that doesn't mean that you have to go all the way to trial.  The truth is that most litigated cases end up being negotiated and settled before trial.  Many jurisdictions also have mandatory divorce mediation.  That means that, even if you have filed your case in court, the judge still requires you to try to settle your case in mediation before you go to trial.
Traditional Divorce Litigation
Divorce litigation is by far the most expensive, time-consuming, and emotionally-draining way to get through your case. If you have a choice, resolving your case any other way is usually better than going all the way through a trial. That having been said, sometimes litigation is your only choice.
If your spouse is abusive, unreasonable, or seriously mentally ill, you may need the protection the court system affords. If your spouse refuses to settle your case, you will have to go to trial. The one advantage that going to court gives you that doesn't exist with any other divorce process is that it will force your case to end at some point. It may take time, but, eventually, if you can't settle your case any other way, a judge will decide all of your issues for you.
To help you decide which divorce process might be best for you, click on the button below to get your FREE Divorce Process Comparison Chart.