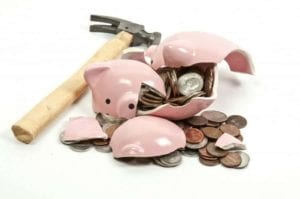 Let's start with a basic truth: very few people enjoy paying their former spouse money after a divorce. It doesn't matter that they love their kids and that the money is for child support. No one likes paying their "ex." But it's equally true that a lot of people who are trying to raise kids as a single parent would really rather not have to depend upon their former spouse to pay them anything … they just don't have a choice. They need child support. (Ok. Some people definitely go after their ex for every last dime they can get. I know. But more people than you would think would really prefer to be self-sufficient.)

Here's a second truth: money is a tough topic to deal with. It's difficult to deal with when you are married, and it doesn't get any easier when you are divorced. But, if you have children, you and your former spouse will continue to have to deal with money issues together until your children are grown and gone. More likely than not, one of you is going to have to pay child support to the other.

The way child support is calculated varies from state to state, as do all of the child support laws. However, there are a few myths that people all over the United States often believe about child support. Understanding that these myths are not true will go a long way toward helping you and your ex deal with the money issues that will inevitably arise as you raise your children into adulthood.

Myth #1:    The amount of money you pay (or receive) in child support is actually enough to properly raise your child. The amount of child support is determined by a statutory formula based upon one or both parents' income. In most cases, that number bears little or no relationship to how much money it actually takes to support your child. I know it may sound completely crazy, but, for the most part, the law doesn't cares how much it takes to raise your child. In certain limited circumstances, child support may be based upon your children's needs. But, usually, support is based upon the parents' income(s), not the children's needs.

Myth #2:    Everyone always pays child support in accordance with their state's guidelines. Each state has guidelines for the amount of child support that should be paid for each child. But they are called "guidelines" for a reason: under certain circumstances, a court has the power to order one party to pay more (or less) than the guidelines. While, in most cases, the court will follow the statutory guidelines, if a parent's income is either really high, or really low, the court may deviate from the statutory guidelines and order the non-custodial parent to pay more (or less) than what those guidelines would ordinarily require. To know whether your state's guidelines will apply to you, you need to consult with a knowledgeable divorce attorney in your area.

Myth #3:    If you pay (or receive) child support, you are not responsible for paying (or you are not entitled to receive) any other money for your children. Child support is intended to cover your children's basic needs – things like clothes, food, and shelter. However, in today's world, children need a lot more than just that. They need health insurance. They may have uncovered medical, dental and optical expenses which need to be paid. They may have educational expenses, like private school tuition, which need to be paid. They are probably involved in a variety of sports, music, or other extracurricular activities, all of which cost money. And, if both parents are working, the children will have day care expenses which need to be paid. Depending upon the laws of the state in which you live, and the facts and circumstances of your case, a court may order both parents to contribute toward the payment of some or all of these things, in addition to child support.

Myth #4:    Calculating Child Support is a Simple Mathematical Formula. While each state does have its own guidelines, or "formula," for calculating child support, computing the amount of money that is actually due based upon the guidelines is very often more complicated than you would think. First of all, all of the guidelines are based upon the "income" of one or both of the parents. But each state defines "income" a little differently. In some states, a court may choose to disregard overtime income, income derived from a second job, or income earned by working more than 40 or 45 hours per week. In other states, all income from any source counts as "income" for child support purposes. To complicate matters even further, when one or both parents are self-employed and don't get a regular paycheck, figuring out that person's "income" for child support purposes can be really difficult – especially when the payor parent is purposely trying to hide his/her true income just to get out of paying child support.

Myth #5:    If you pay child support, you are entitled to get an "accounting" from your children's other parent showing exactly what s/he did with "your" money. Child support is money you pay to your former spouse for the support of your children. However, for the most part, what your former spouse chooses to do with that money is entirely his or her business. S/he does not have to show you every receipt for every purchase he or she made for your children. Your former spouse does not have to go to court and "prove" to the judge that s/he is spending all of the child support money on the children. Why not? Because judges have enough to do without micro-managing every family's budget! No judge wants to dissect a grocery list to figure out how much someone spent to feed their kids. Now, if your children don't have food, clothing, and a place to live, while your spouse is taking the child support money and partying, that's a different story. But, as long as your children are being taken care of, don't expect the court to order any type of accounting of child support money.

Once you understand how child support is really calculated, and how child support really works, dealing with your spouse about it should be easier. But, even if its not, always remember one thing: your kids are your kids. No matter what happened, or is happening, with your ex, your kids are your kids. Whether they live with you, or with your ex, you owe it to them to support them as best you can.