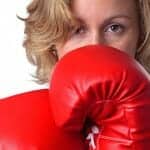 When you're going through a divorce, there are a million different ways you can make it ugly. You start by hiring the most aggressive trial lawyer you can find. Then you give that lawyer free rein to engage in every dirty trick in the book. You go to court early and often. You air all of your spouse's dirty laundry in public. You subpoena every piece of financial information that has crossed your path in the past five years. You engage in discovery for months, or years. And you run up an enormous legal bill … which you then try to get your spouse to pay. Do all of that and, voila! You will have an ugly divorce. The problem is, even if you do all that, and even if you win in court, very often, in the end, you still lose.

The perfect example of an ugly divorce gone bad can be found in a recent Chicago case. Antoinette Vigilante, the 56 year old former wife of multi-millionaire Patrick Arbor, the former chairman of the Chicago Board of Trade, filed for a divorce from her 75 year old husband last year. Shortly after filing the case, Ms. Vigilante's lawyers asked the Court to freeze Mr. Arbor's assets, claiming that he intended to move his assets offshore and establish residency in a foreign country. The judge denied Ms. Vigilante's motion, calling her claims "speculative." Later, after the court ordered Mr. Arbor to pay tens of thousands of dollars in temporary support to his wife, he transferred all of his assets out of the country, became an Italian citizen, and moved to Europe.

During the course of the case, it came to light in court documents that Mr. Arbor had failed to pay taxes for 30 years on assets he held outside of the country. While Mr. Arbor describes his wife's attorney's tactics as "blackmail," he also stated that he now feels that "a tremendous weight has been taken off his shoulders," and he has entered into a federal amnesty program and will pay back the taxes he has owed for the past eight years. Meanwhile, the judge in the divorce case granted Ms. Vigilante a divorce, and ordered Mr. Arbor to pay her $18 million, plus $289,000 in past due support. The judge also issued a bench warrant for Mr. Arbor's arrest.

In the world of ugly divorces, this case ranks right up there. Thankfully, there were no minor children involved, although Mr. Arbor does have adult children both from his first marriage, and from a prior relationship. But, still, when you read about this case, you can't help but wonder: who won?

Sure, Ms. Vigilante was awarded $18 million. But, collecting that money, most of which is apparently located outside of the U.S., won't be easy. As for support, the court may have ordered Mr. Arbor to pay support, but, if he has already racked up $289,000 in past due support, he clearly isn't paying that either. Of course, Ms. Vigilante will have the satisfaction of having gotten the court to put a warrant out for her husband's arrest …. should he ever return to the United States. But given the choice between having an arrest warrant out on your ex, or $18 million in the bank, most people would take the money.

As for Mr. Arbor, he seems to have successfully avoided paying his former wife millions of dollars … for the moment. But the legal drama will undoubtedly continue for years. Meanwhile, Mr. Arbor most likely has an enormous IRS bill to pay, his reputation, such as it is, has undoubtedly taken a huge hit, and he is effectively exiled from the United States unless and until he pays what he owes to his now former wife. That's hardly the way most people would like to spend their golden years.

In my opinion, neither one of these people "won." They have both suffered through a year and a half of really ugly, and very public, divorce litigation. Each of them has to have paid hundreds of thousands of dollars (or more) in legal fees. Each of them will continue to pay legal fees well into the future. Of course, given the amount of money they both have, its hard to feel too sorry for them. But, even still, the point is that they have both put themselves through hell, and, in the end, regardless of who you think may or may not have won the battle, they both lost the war.
_____________

To read more about the Vigilante and Arbor divorce, go to:

http://articles.chicagotribune.com/2013-10-09/news/ct-met-arbor-divorce-fight-20131009_1_howard-rosenfeld-divorce-lawyers or

http://www.chicagobusiness.com/article/20131008/BLOGS03/131009774/ex-cbot-chief-patrick-arbor-admits-he-dodged-taxes-for-30-years