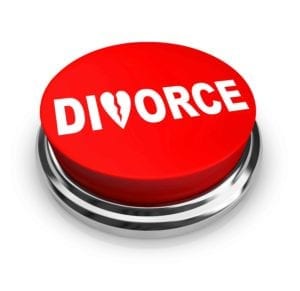 No fault divorce is the norm in every state in the United States. But that doesn't mean that everyone thinks that it is a good idea. Conservatives and religious groups in particular have been pushing divorce reform for years. They answer the question "Should divorce be harder to get?" with a resounding YES!
On the other side of the equation, most people who have actually been through a divorce think that divorce is already hard enough.  There are plenty of road blocks to ending your marriage with dignity and respect. Having to prove that your spouse cheated on you, beat you, was a drug addict, or was "at fault" in destroying your marriage (especially when none of those things is true) seems absurd.
So, who is right? Should we turn back the clock and do away with no fault divorce?  Or, should irreconcilable differences be enough to end every marriage? Should divorce be harder to get?
Here are the arguments, pro and con.
Top 10 Arguments for Abolishing No Fault Divorce
Answers to the Top 10 Arguments for Abolishing No Fault Divorce
Parental conflict is what really hurts kids.Children suffer from their parents' conflict – regardless of whether their parents are married or divorced. While some studies show that children of divorce do worse in life than children from intact studies, experts point out that it is difficult for any study to definitively isolate divorce as the cause of a child's poor outcomes in life. Most children of divorce recover from the effects of their parents' divorce relatively quickly. In short, it is conflict, not divorce, that hurts children the most.
The U.S. divorce rate has been falling for years. The U.S. divorce rate has fallen from 23 divorces per married couple in 1979 to under 17 divorces per married couple in 2005.
No fault divorce has helped, more than hurt, society. In the 10 years following the adoption of no fault divorce, domestic violence dropped by one third, the number of husbands convicted of murdering their wives dropped by 10%, and the female suicide rate dropped by 11 – 19%. People no longer have to lie about what really happened in their marriage, just to get a divorce.
Most people have thought about divorce for years before they pull the trigger. A recent study of 3,000 people who were representative of the U.S. married population found that 37% of people had been thinking of divorce for over two years, and another 16% of people had been thinking of divorce for more than one year. While not everyone who thinks about divorce gets a divorce, most people who do get divorced are not cavalier about doing so. At this point, everyone in the world knows that getting a divorce sucks. More education is not necessarily the answer.
Making divorce harder won't change the economic effect of divorce. The economic hit that people take when they get divorced is usually temporary. What's more, poverty is as much a cause of divorce as divorce is a cause of poverty. Because of that, it's hard to really know the truth of what the "statistics" show.
Couples should get more education about how to maintain a good marriage. A Google search for the phrase "effects of divorce" yields 41,500,000 results. It's hard to believe that anyone doesn't know that divorce has some negative effects. Educating yourself about how to maintain a good marriage can never hurt. But, if education alone could save a marriage, the divorce rate world wide would be a whole lot lower than it is.
Everyone has the right to believe what they want about divorce. You can believe that God hates divorce if you want.  I believe that God is love. My God doesn't hate divorce, or the people who get divorced. The beautiful thing is that we live in America. We each have the right to believe what we want.
There is no scientific evidence that married people are healthier than divorced people. How spouses treat each other directly affects their health. While being happily married may be a boon to your health, being unhappily married may actually hurt your health. Thus, it may be the strength of your marriage, rather than the simple fact that you are married, that matters.
Forcing someone who wants to divorce to stay married is unfair. Even if their reasons for wanting a divorce are stupid, forcing someone to stay married against their will is medieval. While unilateral divorce decreases the power of the spouse who wants to stay married, requiring both parties to agree before they can get divorced eliminates the power of a spouse who is unhappy and wants a divorce. It also forces people (particularly women and children) to stay in violent marriages where they are not safe.
Making divorce harder will only make it worse. If people want to get divorced, they will get divorced. Making divorce harder will only frustrate people who are already frustrated in their marriage. What's more, the government has no business inserting itself into people's personal relationships. The law should not infringe on people's right to marry, or divorce, as they choose.
So, Should Divorce Be Harder to Get?
Statistics are often misleading. "Facts" can be manipulated and studies often "prove" the point of the institution that commissioned the study.
Regardless of what you think about divorce, if you look hard enough, you can probably find some study to support your position.
What the debate seems to come down to is which value you hold more dear: personal freedom and the right to decide your own fate and future, or the total sanctity of marriage and maintaining a traditional family no matter what.
Yet, these two values are not mutually exclusive. Most people value both marriage and freedom in varying degrees.  The question is really when,and under what circumstances, one value should trump the other.
Society is changing. Our values are changing. While some people claim that these changes will ultimately destroy life as we know it, nothing stays the same forever.  Marriage and divorce today look very different from how they looked 100 years ago.
What you think of marriage and divorce today often depends on the kind of marriage you have. If you are in a marriage with a violent or abusive spouse, you will be glad that getting a divorce is easier now than it was 50 years ago.
On the other hand, if you have been a good and faithful spouse and expected your marriage to last forever, but your spouse decides s/he wants a divorce, you will probably wish that the divorce laws were stricter. You will wish that you could slow or stop the divorce that you don't want.
The truth is that, today, both the divorce rate and the marriage rate, are lower than they have been in years. So, whether you think divorce should be harder to get or not, if fewer and fewer people are getting married, soon it might not matter much how hard it is to get divorced.
_________
Regardless of whether you think divorce is too easy or not, when you are facing divorce, you need help! CLICK THE BUTTON below and get your FREE DIVORCE CHECKLIST to help you navigate through your divorce.
Send me My FREE Divorce Checklist