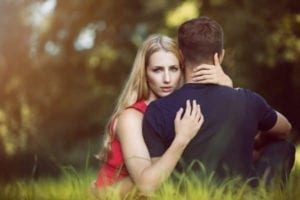 Surviving infidelity. You never thought those words would apply to you.
When you first find out that your spouse has been having an affair, "survival" in any sense of the word seems questionable.  At least, that's how it feels.
You can't eat. You can't sleep. All you want to do is lay in bed and cry.
If you do manage to get up and get through your day, you feel like you're sleep walking. On the outside you may look okay. But inside, there's nothing – just empty space.
Dealing with Your Spouse's Affair
For some people, an affair is a "deal breaker" in their marriage. When they find out that their spouse has cheated on them, they're done. They don't care about reasons or rationalizations. For them, cheating means divorce.
It's that simple.
But, for most of us, cheating isn't that simple. Neither is divorce.
You have finances to consider – and kids! Plus, as crazy as it may be, you may find that even though your spouse cheated, you still love the louse!
So although you're devastated, you're not sure what you should do. You don't even know who you should tell!
If you tell your friends that your spouse cheated, they're going to be all up in arms! They're going to expect you to file for divorce and go for the jugular. If you don't file for divorce, they're going to think you're an idiot. They may even think you deserve what you got!
You also aren't sure you want to share your news. The last thing you need is having everyone talking about you behind your back. "Look! There's Suzy. I heard her husband left her for some (fill in the blank with your worst nightmare)!"
That just piles rejection on top of rejection.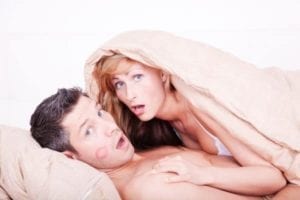 Your First Steps in Surviving Infidelity
The way you go about surviving infidelity depends a lot on how good or bad your marriage was before you found out about the affair. If your marriage was floundering for years, discovering that your spouse was unfaithful may come as no surprise. (That's not to say it won't hurt. It just may not be a big shocker.)
On the other hand, if your marriage was reasonably stable (or you thought it was reasonably stable!) the news of your spouse's infidelity can be world-rocking!
Either way, step number one in dealing with infidelity is to find yourself a good therapist.
If your marriage has been dying a slow death for a long time, then your focus in therapy may be more about dissecting what went wrong in your marriage than in dealing with the affair per se. If the affair was simply a symptom of a bigger problem, then dealing with that bigger problem first may make sense.
If your marriage seemed okay until you discovered your spouse's affair, however, you'll be taking a different approach. You need to get through the shock of discovery and process your pain before you can do anything else.
Step number two in surviving your spouse's infidelity will be deciding what kind of recovery you want to have.
The Two Types of Affair Recovery
In "A Brief Guide to Recovering From Affairs," the late therapist and affair survivor, Peggy Vaughan noted that there are two types of affair recovery: personal recovery and marriage recovery.
Personal Recovery
Personal recovery is exactly what it sounds like. It means that, as a person, you work through, and heal from, the pain of your spouse's affair.
To experience a personal recovery after your spouse's affair, though, you have to do a whole lot more than just "get over it." To really recover from an affair, you have to allow yourself to feel your feelings and work through them.
Yes, that sucks. It also takes a long time. But burying your feelings or pretending you're okay when you're not, can never give you a true personal recovery.
To truly recover from your spouse's affair, you have to learn to let go. You need to let go of the anger and bitterness you feel toward your spouse. You also need to let go of being a victim.
To recover from an affair you also need to learn to forgive. You have to forgive your spouse for having an affair.  You also have to forgive yourself for supposedly not being "enough."
Ultimately, when you recover, you grow from your experience. You turn your pain into strength.
Marriage Recovery
Marriage recovery, on the other hand, isn't exactly what it sounds like. If all your marriage does after your spouse's affair is stay together, you won't have accomplished much.
Sure, on the outside, it will look like you won. You survived infidelity!
But, unless your marriage changes and grows in the aftermath of the affair, you still won't end up being particularly happy. As a matter of fact, unless your marriage changes, there's a pretty decent chance that either you or your spouse will go on to cheat again. Or, your marriage will die the slow, painful death that comes with resignation and regret.
Again, you may be married on paper. But your relationship will be an empty shell.
A true marriage recovery happens when a couple uses the affair to "level up" their marriage. They learn to communicate more openly and honestly with each other. They begin to talk to each other about difficult or sensitive issues without anger or criticism.
In short, they use the affair as a catalyst to deepen their connection and improve their marriage. They create a new "Marriage Version 2.0" that's better and stronger than the marriage they had before the affair happened.
To truly turn an affair from a negative to a positive, you want to strive to have at least a personal recovery. Whether you also go for a marriage recovery depends upon whether you think the marriage is worth saving or not.
Can Your Marriage Recover After an Affair?
Deciding whether or not your marriage is worth saving is rarely easy. Most marriages are a combination of good and bad. What's more, love tends to complicate more than clarify the situation.
Even though you may hate your spouse for cheating, you also may love your spouse because, well, because you love him/her!
If you still love your spouse, or you have small kids, or if you aren't in a financial position to divorce, then working on your marriage may be more appealing to you. On the other hand, if your spouse has been abusive to you, or has a drug or alcohol problem, then even if you love him/her, getting a divorce may be worth considering.
Finally, even if you are leaning toward trying to save your marriage, you still need to consider your spouse.
If your spouse doesn't want to work on your marriage, or if your spouse won't end the affair, then like it or not, your marriage is over. (Sorry!)
Why is that true?
It's true because pulling your marriage back from the brink of divorce after an affair takes work. It also takes two partners who are both committed to doing the work. If your spouse doesn't value your marriage enough to work to save it, then what exactly are you trying to save?
The 3 Phases of Affair Recovery
Even when both you and your spouse want to make your marriage work, recovering from infidelity is a process. It takes time, energy and an incredible amount of patience. While an affair may have lasted as little as one night, healing after an affair can take years.
What's more, the road to recovery is NOT a straight line! As a matter of fact, you're likely to feel like you're taking one step forward and two steps back as you work through your post-affair issues.
That's why it helps to understand the different phases of recovery that you will pass through as you work to heal your marriage and yourself.
According to Drs. John and Julie Gottman of the Gottman Institute, there are 3 phases involved in recovering from an affair.
1. Atonement.
In the atonement stage of recovery, your spouse (i.e. the betraying spouse) must be genuinely sorry for the pain s/he has caused you. Your spouse must be empathetic toward your feelings. S/he must also take full responsibility for his/her actions without being defensive.
During the atonement process, you need to gain insight into what went wrong in your marriage without accusation or blame. That means you need to be able to talk to each other openly and honestly about everything. You also need to explore the reasons each of you wants to stay together. Most of all, you must be patient with each other during this process. According to research, the atonement process can last up to two years.
 2. Attunement.
During the attunement phase of affair recovery, you and your spouse have to commit to putting your marriage first. You also need to continue to connect with each other without falling into anger or blame.
During attunement, you will continue to work on conflict resolution and communicating with each other openly and honestly, even when it's hard. You will also continue to work on being empathetic towards each other and seeing things from the other's point of view.
3. Attachment.
In the attachment phase of affair recovery, you start to reconnect with each other through physical intimacy. Rebuilding a sexual connection is a key step in creating a solid attachment and a good marriage.
As Dr. John Gottman explains, "Without the presence of sexual intimacy that is pleasurable to both, the relationship can't begin again."

Steps to Surviving Infidelity
Whether or not you and your spouse are able to get through all 3 phases of affair recovery so you can get your marriage back on track depends on many different factors. But, at the heart of them all lies the two of you, and your commitment to each other as a couple.
Here are some specific, practical steps you and your spouse can take after an affair if you want  to help your marriage heal.
10 Steps For The Betraying Spouse
End the affair now.
You can't save your marriage if you're only half committed to doing it. So you either go all in and cut the cord with your affair partner, or you kiss your marriage goodbye. (Sorry!)
Take full responsibility for your actions.
Even if your marriage was floundering before you stepped out on your spouse, that still doesn't justify your affair. If you aren't willing to be 100% responsible for the affair – WITHOUT blaming your spouse for it – affair recovery becomes way more difficult.
Apologize, apologize, apologize – and mean it!
Being sorry for having an affair can be surprisingly hard. If your affair lit you up like a Christmas tree and made you feel alive again for the first time in years, it's hard to be sorry it happened. Apologizing under those circumstances can make you feel like a fraud. Yet you CAN be sorry about the pain you caused your spouse. THAT is what your spouse needs a genuine apology for.
Commit to complete transparency for as long as it takes.
No good marriage can survive without trust. Yet trust is always the first casualty of an affair. Rebuilding trust will take time, work, and an enormous amount of transparency. That means you will need to share all your passwords with your spouse. You will need to give him/her access to your cell phone and your email accounts. You will also need to let your spouse know where you are and what you are doing all the time for a long time.
Tell the truth.
As much as you may not want to share, you need to honestly answer EVERY question your spouse may have about the affair. If you try to avoid any question, or hide any information, your spouse will only think you're lying again. Like it or not, you need to be willing to talk about the affair, in intimate detail, over and over again, until your spouse has had enough.
Be empathetic.
Surviving an affair is similar in many ways to surviving trauma. If you can't be empathetic about the pain your spouse is going through, the healing process will either take longer, or stall out completely.
Be patient.
Your spouse may not trust you for a long, long time. S/he will continue to test your commitment to him/her and to your relationship. Your spouse will also be hypervigilant about what you're doing and who you're with for way longer than you think is necessary. Remember: what is or isn't necessary is not your call. You need to give your spouse as much time as s/he needs to heal.
Figure out WHY you had the affair.
What was going on in your marriage before you had the affair? While the fact that your marriage was in trouble before your affair is no excuse for having the affair, it may provide you with an explanation of your motivation. It might also be useful to examine the events leading up to your affair. Was there a point at which you could have turned away? Why didn't you do that? What could you do in the future to stop yourself from crossing the line again?
Ditch the self-blame.
Constantly being angry at yourself for what you did is not helpful. Burying yourself under a mountain of guilt changes nothing. As a matter of fact, those feelings can actually prevent you from learning from your mistakes and moving on. Get yourself a therapist. Dig into what may have caused or contributed to the affair. Then cut yourself a break and stop beating yourself up for what you did.
Don't expect quick or easy forgiveness.
If your marriage is going to recover after an affair, at some point your spouse is going to have to forgive you. Otherwise you'll never be able to move on. But that doesn't mean that forgiveness will come easily or quickly. As a matter of fact, your spouse may make you jump through more hoops than they have at Cirque du Soleil before forgiving you. That's okay. Again, rebuilding trust takes time and effort. Like it or not, putting in that time and effort is your job.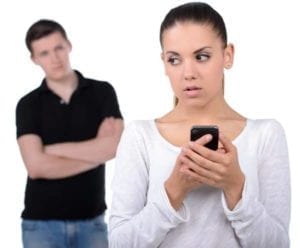 10 Steps For The Betrayed Spouse
Allow yourself to have your emotions.
 Denying your emotions won't make them go away. It will just send them scurrying underground. They WILL come out later, probably at the worst time and in the worst way. Pretending you're not angry, hurt or upset will only make getting over those emotions take longer.
Don't make any life-altering decisions while you are in a state of shock.
It's not unusual to feel like you're walking around in a fog for awhile after you find out your spouse has been having an affair. Your brain is flooded with emotion and you literally can not think clearly. Making good decisions requires a clear head. So, if you can avoid it, try to minimize the amount of decisions you need to make until the fog clears. (That includes NOT deciding to get a divorce until you can thoroughly think through all of your options!)
Only ask questions if you REALLY want to know the answers.
It's only natural to want to know all the gory details about your spouse's affair. Just remember, that you can't "un-know" something. Getting too many intimate details about what your spouse did (and HOW s/he did it!) can create vivid negative images in your head. Those images can stay with for you a LONG time. They will also get in the way of your healing. (In other words, they will make your recovery harder.)
Be honest.
If you want to get past your affair, you need to be brutally honest with your spouse and with yourself. You can't sweep the stuff you don't want to look at under the rug. You have to bring those tough issues out and talk about them openly. You also need to have those hard conversations with your spouse without blaming or judging your spouse or yourself. (Yes. I know that's hard!)
Take responsibility for your actions.
Your spouse's affair was NOT your fault! But, chances are, when you go back and look at your pre-affair marriage now, you can see that there were issues you didn't deal with at the time. You need to take responsibility for your part in any of those issues. That DOESN'T mean that those issues provided an excuse for your spouse's cheating.  But examining what was happening in your marriage before the affair can give you valuable insight into how the affair came to be. According to Dr. Susan Heitler, the more willing you are to look at your own role in the development of the affair, the more quickly you will heal.
Acknowledge your spouse's efforts.
When you're hurt, it's hard to see anything your spouse does as positive. Even if you do see how hard your spouse is trying to make things right, you feel like you deserve it. Your spouse SHOULD have to work like crazy to make up for what s/he did! While that kind of thinking may be normal at first, after a while it becomes counter-productive. It makes your spouse question whether continuing to try to put your marriage back together makes sense. Inevitably, you feel that ambivalence. Then you start questioning your spouse's commitment to your marriage. That kind of thinking throws you and your spouse into a downward spiral of negativity.
Be willing to set a time limit on affair talk.
When you first discover your spouse's affair it takes over your life. It becomes the only thing you can think about. It's all you want to talk about. That's normal. But, if you want to get over the affair, at some point, you've got to be willing to STOP OBSESSING about it. That may require a few good conversations with a therapist. It will probably require some self-discipline and it will definitely require a willingness to let go. But as long as the affair is controlling your brain, you can't heal. You can't move on.
Be willing to forgive your spouse.
Unless you're willing to forgive your spouse at some point, your marriage will never recover. Neither will you. The longer you hold onto your anger and desire for revenge the harder you make your own recovery from infidelity. If you hold onto your anger for too long you will become bitter. You will also drive your spouse away and doom any chance of saving your marriage.
Don't rush into forgiveness if you don't really feel it.
Forgiving is important, but "fake forgiveness" is garbage. Rushing into "forgiving" your spouse when you're still seething with anger is counter-productive. You have to deal with your anger first before you are ready to genuinely forgive your spouse.
Be open to looking at the affair differently some day.
Human beings are meaning making machines. If you want to heal from an affair you need to change what the affair means to you. Initially you may interpret the affair as meaning that your spouse doesn't love you. Maybe you think your spouse doesn't even want you. When you can shift the meaning to something closer to, "that was a super painful experience, but it was a wake up call," everything changes.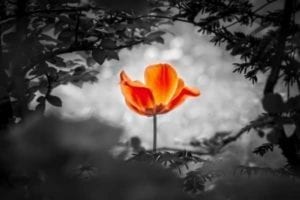 Healing the Hurt So You Can Move On
Recovering from an affair is no easy task. It takes time, effort, commitment, and a whole lot of patience.
Yet, it can be done.
You can rebuild your life after an affair. You can regain your ability to trust another human. If you and your spouse choose to rebuild the trust between yourselves in your marriage, you can do that, too. Bet even if saving your marriage isn't in the cards for you, learning to trust again is still a worthwhile endeavor.
There is hope for surviving infidelity. There is hope for you.
_______