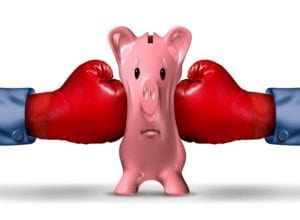 One of the reasons many people hesitate to get divorced is that getting divorced isn't cheap. Divorce lawyers are expensive.  It also takes more money to support two households than one.  All of that makes divorce expensive. On top of that,  there are hidden costs of divorce that most people don't think about. When you add all of those costs of divorce together, it's easy to see why getting divorced is such a financial strain.
Before you dive blindly into divorce, it helps to understand what the true cost of divorce is likely to be.  To do that, you have to consider, not only the obvious divorce costs, but all of your divorce costs. Here are the top five hidden costs of divorce you might not normally think about.
The Hidden Costs of Divorce
1. Taxes
The two most important types of taxes that people fail to think about when they are getting divorced are income taxes and capital gains taxes.
Income Taxes
The tax laws favor married people. If you file your income taxes as married filing jointly, you will usually pay the least amount of income taxes. Once you divorce, you must file your income tax return as a single person. That typically means that you will pay income taxes at a higher rate than you did when you were married. (Sorry!)
Of course, the total amount of taxes you pay also depends on your income, your dependents, and you're filing status. When you are married, all of your and your spouse's combined income get claimed on one tax return.  You also jointly claim all of your kids as dependents. You share  whatever deductions you both can claim. Generally, all of that helps decrease your overall tax burden.
Once you are divorced, only one of you can claim each child as a dependent on your income tax returns.  Typically, only one of you can claim head of household status on your income tax returns. (Filing as "head of household" will usually create a tax savings for you.)  What's more, if you're paying or receiving alimony, that has tax implications as well.  (Usually, income paid to one spouse as alimony is tax deductible to the payor and taxable income to the payee.)
Figuring out the income tax implications of your divorce can be both incredibly complicated and incredibly important. Do it wrong, or don't do it at all, and you may be socked with a tax bill that sends your budget reeling!
Capital Gains Taxes
Dividing investments in a divorce can also be a source of one of the hidden costs of divorce. If you and your spouse own any stocks, bonds, or other investments, and you sell all or part of them in your divorce, you may be facing capital gains taxes.  Capital gains taxes typically apply to  the sale of any property or investments.  So, for example, if you and your spouse have stocks in an investment account, and you sell them in your divorce, you will pay taxes on the profit from that sale.
The Bottom Line: Taxes are complicated and confusing. They are one of the biggest hidden costs of divorce. So, before you finalize your divorce case, you should consult with a qualified accountant or a certified divorce financial planner and make sure that you know the tax implications of any settlement that you make. Otherwise, you may find that your divorce settlement isn't worth nearly what you thought it was.
2. Real Estate Expenses
If you have to sell your house because of your divorce, you will have to pay the realtor's fees and closing costs of the sale.  If your house needs repairs, or repainting, before it can be sold, you will have to pay for that too. You also may get less for your house than you think it is worth if you are forced to sell it in a bad market. All of those expenses add up quickly.
The problem is that NOT selling your house has hidden costs too. If you don't sell your house, one of you will have to find the money to buy out the other. Plus, when the person who keeps the house in the divorce sells it later, s/he will still have to pay the realtor's fees, closing costs, etc. from the sale. Those are costs a lot of people forget about when they're negotiating their divorce.
What's more, depending upon the divorce law in your state,  the person who keeps the house may not be entitled to get a credit at the time of divorce for all of costs of selling the house later.  Obviously, that can have a huge impact on your decision to keep or sell your house.  Before you make any decisions, you should definitely talk to your divorce attorney about this issue.
The Bottom Line: Don't forget to factor in the costs of selling your house into your divorce. If you or your spouse is keeping your house, check with an attorney to find out whether the spouse who is keeping the house can get credit from the other spouse for the costs of the sale. Finally, remember that everything is negotiable.
3. Employment Costs
It costs money to get a job! If you have been out of the workplace for awhile you may have to pay to get additional training or education to improve your resume or your skills.  Or, you may need to get a new certification or degree. While that can help you earn more money in the long run, it still costs money now. A huge mistake many people make is overlooking the cost of the education or training they will need in order to become self-supporting.
Even if you have the right education skills, if you've been out of work for awhile, you still may need career counseling. You may need  a wardrobe upgrade so that you have proper  interview clothes. You may also have to travel for interviews. While you may only have to pay for a bus ticket or a train ride into the nearest city, when you're making the trip multiple times, it adds up. All of these things cost money. They are truly hidden costs of divorce.
The Bottom Line: When you are making your post-divorce budget, make sure to factor in enough money to pay for all of the "extras" you will need in order to find a job that can sustain you.
4. Therapy/Counseling/Coaching
Divorce takes a huge emotional toll on everyone involved in the process. It is hard on you, your spouse, and your kids. While, hopefully, everyone will  adjust eventually, it is totally normal for you and/or your kids to need help along the way.  A licensed therapist, counselor, or divorce coach can be a huge help during, and even after, your divorce.
Of course, like everything else, therapy and coaching costs money.  Thankfully, your medical insurance should cover at least a portion of the cost of therapy.   Coaching, however, is usually on you.
Because of the cost, a lot of people are tempted to forego therapy during a divorce. But, that has a cost, too.
If you are anxious or depressed because of your divorce, you may perform poorly at work. That can cost you your job. Or, it can keep you from getting a decent job. If you don't deal with your anger and your pain, you are likely to have more conflict in your divorce. The more you fight, the more your divorce costs. So, while it may seem that not getting therapy or coaching can save you money, the truth is that it can actually cost you more.
The Bottom Line: You need to factor into your post-divorce budget the costs of getting whatever therapy, counseling, or coaching that may be necessary for you and for your kids.
5. Increased Costs of Health Insurance
When you are married, you, your spouse, and your kids typically share one health insurance policy. Once you are divorced, that ends.
That means that you and your spouse will each have separate health insurance policies. Then one of you is going to have to insure the kids. Even with the changes to the healthcare laws, unless you and your spouse are each able to get affordable health insurance through your employers, you are very likely going to collectively end up paying more for health insurance than you did before your divorce.
The Bottom Line: The best time to figure out your healthcare options and the cost of those options is before you get divorced. If you don't have access to health insurance through your employer, make sure to do your homework! Find out what your health care will cost after you divorce, and make sure to work that into your post-divorce budget.
The Total Bottom Line
Before you dive into a divorce, and before you finalize your divorce, make sure to take into account these hidden costs of divorce. Otherwise, you may suffer a financial shock you truly were not expecting!
_____________
If you want to learn how to save money both during and after your divorce CLICK the button below, and to get your FREE Copy of "50 Creative Ways to Save Money After Divorce."