There is no doubt about it. Deciding whether to divorce is huge, and it can tie you up in knots for months, if not years. You know that marriage isn't always easy. You know that everyone has their ups and downs. Yet, at the same time, when the "downs" seem to outweigh the "ups," what are you supposed to do? Should you stay together for the sake of the kids? Or is staying together worse for the kids? Do you really want to turn your entire world upside down? Or is it better to stay married even if you are miserable? You are going around and around in your head, torturing yourself with the question you never thought you would ask: "Should I Get a Divorce?"
Dazed and Confused: Should I Get a Divorce or Not?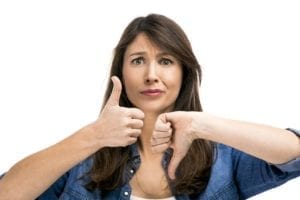 If this describes you, don't despair. Just because you may be thinking of divorce, that does not necessarily mean that your marriage is already over. On the other hand, you are not exactly immersed in marital bliss either. What is important is that you recognize where you are at. Denial is not your friend.
Is This Normal?
Now, before we go any further, you may be wondering, is this normal? People talk about the "3 year (or 7, 10, or name your number of years) itch" in marriage. How do you know whether the question, "Should I get a divorce?" is normal, or whether your marriage is really in trouble.
Here is the test: How much time are you spending thinking about divorce, and how does it make you feel?
Happily married people do not spend their time contemplating divorce. Sure, everyone wonders sometimes if the grass wouldn't be greener on the other side of the road. But, for happily married people, the random thought of divorce is exactly that: random. It doesn't last. Thinking about divorce often, or constructing elaborate day dreams about what your life as a single person would be like, is a definite sign that your marriage is in trouble.
What to Do?
Once you know your marriage is in trouble, the obvious next question is: What do you do about it? Do you try to save your marriage? How? Do you say something to your spouse? What if your spouse doesn't agree with you? What if your marriage can't be saved no matter what you do?
If marriage is in trouble, you owe it to yourself, to your spouse, and to your children, to figure out whether there is something you can do to save it. Maybe it can't be saved. Maybe you have passed the point of no return. If you know that, then read no further. You made your decision. But, if you are not sure, if there is any doubt at all in your mind about whether to stay or whether to go, then you need to explore all of your options.
What are Your Options?
Today, there are many different ways to try to find the answer to the question, "Should I get a divorce?" Here are some of the choices you have to help you decide whether or not you should get a divorce, or work on your marriage.
1. Discernment Counseling.
Discernment counseling is a new type of counseling pioneered by Bill Doherty as part of the Minnesota Couples on the Brink Program. It is a brief, time-limited, process in which you and your spouse focus on whether to work on your marriage, or move towards divorce. Unlike traditional marriage counseling, the goal of discernment counseling is not to save the marriage. Rather, the goal is to help you get clear on whether you want to stay married or not.
2. Marriage Counseling.
Traditional marriage counseling is an open-ended process in which you and your spouse explore your relationship and work to make it better. Typically, marriage counseling helps you and your spouse recognize your problem areas, resolve your conflicts, and improve your communication with each other. Unlike discernment counseling, which focuses on the decision of whether or not to divorce, marriage counseling usually focuses on how to save your marriage.
3. Pastoral Counseling.
Most organized religions, even though which do not recognize divorce, often have programs which are geared towards helping couples improve their marriage. If you are trying to save your marriage, these types of programs can be very helpful. On the other hand, if you or your spouse has already decided that you are done, pastoral counseling may not do much to help the situation. It can actually make things worse by adding a layer of shame and blame onto an already bad relationship.
4. Trial Separation.
A trial separation is another new technique which aims to give a couple space while allowing them to work on their marriage. A controlled separation agreement is regulated by an actual written contract which you and your spouse work out – usually with the help of a divorce coach or a counselor – which sets the guidelines for how long the separation period will be and what will happen during that time.
5. Self-Help.
There are scads of books out there which are designed to help you figure out whether to stay married or get divorced. Some of the best are: Too Good to Leave, Too Bad to Stay: A Step-by-Step Guide to Help You Decide Whether to Stay In or Get Out of Your Relationship

by Mira Kirshenbaum and Contemplating Divorce: A Step-by-Step Guide to Deciding Whether to Stay or Go
by Susan Pease Gadoua.
6. Listen to Yourself and Your Body.
This is often the hardest thing to do but, in my experience, it is often the most reliable. To do this, though, you have to find some time alone. You need to breathe. You need to feel. Most of all, you need to find the time and space to do some serious soul-searching. You need to ask yourself questions about your marriage, and about what you want. Then you need to be quiet and listen for what comes up. For a moment, try not to think too much. Just pay attention to how you feel. And, recognize that this may take time. You didn't get to where you were at in one day, and you are not likely to get clear on where you are going in one day, either. Give yourself time.
7. Educate Yourself About Divorce.
If you are really serious about divorce, it might help to learn and understand what divorce really involves, and what you will be facing if you go down that path. Get the information you need, either by talking to an attorney, or a divorce coach, or by taking a divorce education course. You may never need to use the information you get. You may never get divorced. But knowing what you are facing can sometimes help you make a decision about what you want to do.
Give Yourself Permission
Deciding whether or when to divorce is a life-altering decision. It takes time and, for most people, a fair amount of emotional angst. Try to be kind to yourself.
Remember that every person is different. Every marriage is unique. What works for some people fails miserably for others. So, the most important thing to do, no matter what option you choose (even if you choose to do nothing!) is to honor yourself and your own decisional process.
Beating yourself up for being a failure, or a bad person, or a lousy spouse, does nothing to help the situation. In fact, it only makes it worse. So, start by giving yourself permission to feel what you feel, to choose what seems right for you, and to make mistakes along the way. Then, step by step, you will be able to work your way through to the point where you have an answer that rings true to you.
Still got questions? CLICK THE BUTTON BELOW to get your FREE E-Book: Should I Stay or Should I Go? How to Decide When You Can't Decide.