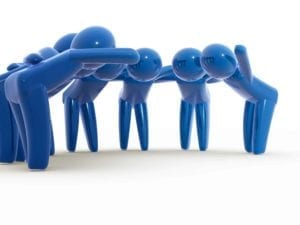 Collaborative divorce is a specific divorce process that helps you and your spouse work together to end your marriage with dignity and respect. Unlike a litigated divorce, which plays out in a public courtroom, a collaborative divorce  gets worked out in a private conference room.  You resolve your divorce issues at a series of meetings, rather than at court hearings.
When you use the collaborative process, you and your spouse focus on creating a new family, rather than on destroying your old one.  The two of you focus on meeting everyone's needs, and addressing everyone's concerns. You focus on your children and your family. You work to create a settlement agreement that is fair and that will last.
Your Collaborative Team
Divorce affects every area of your life. It is legal, emotional, and financial. It affects your kids, your family and your relationships.  Getting through a divorce effectively requires more than just a divorce lawyer.  It takes a team.  That's why Collaborative Divorce uses a team approach.
The size of your team depends on you and your spouse. It depends on what you need, and what will best support you in moving through your divorce in the least destructive way possible.
Your team will always include collaborative divorce attorneys for you and your spouse. It may also include one or two divorce coaches, a neutral financial expert, and possibly a child specialist. If you need to consult with outside experts (real estate appraisers, accountants etc.) you and your spouse will usually use neutral experts. That will save you from the headache of hiring individual experts then fighting about which expert is right.
How Does Collaborative Divorce Work?
In Collaborative Divorce, everyone works towards a common goal:  meeting your needs, as well as the needs of  your spouse and your children.
In the beginning of your divorce, you and your spouse decide what your goals are. You can each have your own goals. They don't have to be the same.
You and your spouse will also identify your concerns about your divorce. Your Collaborative team, as well as you and your spouse, also work to address all of those concerns.
Because Collaborative Divorce is focused on meeting everyone's needs and addressing everyone's concerns the process is much less destructive than a litigated divorce. There is no "winner" or "loser." There is just you and your spouse, separating yourselves from each other respectfully.
To make sure that everyone  is completely invested in the Collaborative Process, everyone signs a "participation agreement" at the beginning of your divorce. That agreement says that both you and your spouse agree to stay out of court.
If, for any reason, you or your spouse starts fighting in court, the Collaborative Process ends.  All of your Collaborative Divorce professionals withdraw.  Then you and your spouse have to get new divorce professionals to handle your divorce from that point forward.  Signing the participation agreement gives everyone an incentive to keep working together amicably to resolve your divorce.
How Much Does Collaborative Divorce Cost?
Using a team approach seems like it would  make Collaborative Divorce very expensive. But, that's not necessarily true.  Fighting in court is the most expensive way to resolve your divorce.
The reason the Collaborative Process costs less than divorce litigation is because of the division of labor in a Collaborative case. Each divorce professional handles the issues within his/her area of expertise. So, the lawyers handle the legal issues. The financial professional deals with the financial issues. The divorce coach deals with everyone's emotions and communication.
Using the right professionals to handle each aspect of your divorce usually saves you money.  It also gives you the benefit of getting truly qualified advice in every area of your divorce. (While divorce lawyers  like to think they can handle every issue that comes up in divorce, they are usually only trained in the law. Financial experts have more training in dealing with financial issues.  Divorce Coaches are trained mental health professionals. Child specialists are trained in child development.)
Collaborative Divorce also saves you money because it helps you and your spouse craft an agreement that you can live with. This keeps you from going back to court and fighting more after your divorce is over. (In litigated divorces, people go back to court after their divorce all the time!)
Is Collaborative Divorce Available Everywhere?
Collaborative divorce is available in Illinois and all over the United States and Canada. It is available in many other countries as well.
Some states have adopted the Uniform Collaborative Divorce Act. This sets out the rules that govern Collaborative Divorce in that state. Because Illinois has not yet adopted that Act, an Illinois Collaborative Divorce is not governed by the Uniform Act. However, an Illinois Collaborative Divorce (or a Collaborative Divorce in any state that has not adopted the Uniform Collaborative Divorce Act) is still conducted using the same collaborative process.
Why Use the Collaborative Process?
Collaborative Divorce and mediation are both alternative dispute resolution processes. That is, they are both alternatives to fighting in court. The difference is that the Collaborative Process provides you with much more support than divorce mediation.
In divorce mediation, you are often negotiating directly with your spouse, without your lawyer being present. In most instances, you meet with your lawyer outside of the mediation session. Your lawyer gives you legal advice. But, usually the lawyer isn't actually with you to help you negotiate and execute your plan.
Divorce litigation also doesn't give you as much support as Collaborative Divorce. In litigation, you usually have a lawyer. So, you are getting legal advice. But, you may not get professional financial advice. You may not get emotional support or coaching. If you do, both of those are "extra."  They cost you money above and beyond what you spend on a mediator or lawyer.
Collaborative Divorce helps you work with your spouse, instead of against him/her. (Yes, with help, you can do that!) It helps you dissolve your marriage respectfully.  It allows you to come up with creative ways to structure your personal and financial lives both during and after your divorce. What's most important is that minimizes the damage to your children.
If you have children together, you and your spouse will be parents forever. If you go through a hotly contested divorce, that affects your ability to parent your children together. A Collaborative Divorce helps you develop new ways to communicate with your spouse. Those new communication processes can be invaluable after your divorce is over.
Finally, Collaborative Divorce is much more private than a traditional divorce. Because you are discussing your issues in a private  conference room, you keep your dirty laundry out of the public eye.
Who Should Use Collaborative Divorce?
Collaborative Divorce is an excellent way to resolve your divorce. But, it is not for everyone.
First, Collaborative Divorce is a voluntary process. Both you and your spouse must agree that you want to use it. If either one of you is not on board, then you have to use a different divorce process to resolve your issues.
Second, Collaborative Divorce relies on the voluntary  production of information. That means both you and your spouse must be willing to provide each other with complete and accurate financial information.  If either you or your spouse won't do that, then Collaborative Divorce will not work for you.
Finally, for Collaborative Divorce to work, both you and your spouse must be willing to voluntarily abide by any agreements you make. You can't agree to one thing, but do another.
To help you decide which divorce process might be best for you, CLICK on the button below to get your FREE Divorce Process Comparison Chart.
Send me My FREE Divorce Process Comparison Chart