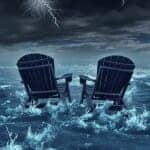 How do you feel when you've crossed the mid-line of life and find yourself facing something you never dreamed you would face at this age: divorce? If you have been unhappy in your marriage for years, and can't imagine facing your spouse 24/7 when you retire, you may feel strangely excited at the prospect of starting a new life. But, if you assumed that you were about to settle comfortably into old age with your spouse, only to be blindsided when your spouse announced that s/he wanted a divorce, you probably felt like you just got sucker-punched!  Either way, surviving divorce after 50 presents a host of challenges that divorce at a younger age does not.
Why is divorce after 50 different?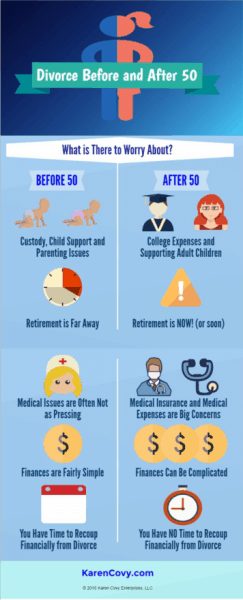 While some might argue that divorce is divorce, divorcing later in life presents unique challenges. You and your spouse don't just have years of history together – you have decades! Your family, friends, and neighbors, all know you and your spouse as "a couple." Facing those people as someone who is "newly single" can be terrifying!
You have no idea what you are supposed to do, or how you are supposed to act. You're not even sure who you are. For the last 20 – 30+ years, you have thought of yourself as a married person: a husband, a wife. Your family was whole. Now, all of that is gone. Your entire identity has just been destroyed.
You also have to deal with your kids.
Adult Children of Divorce
While many people assume that by divorcing later in life they will at least be saving their children from suffering, sadly, that is not always true.  Just because your children happen to be adults when you get divorced does not mean that they won't be affected by your divorce.  On the contrary, your adult children may be affected by your divorce even more than younger children would be.
The bottom line is that you are going to have to put in the time and effort to make sure that your kids are okay, no matter how old you (or they!) are when you get divorced.
As difficult as dealing with all of these emotional issues will be, by far the most significant impact that divorce over 50 will have on your life is the financial strain that divorce inevitably brings with it.
The Financial Impact of Divorce After 50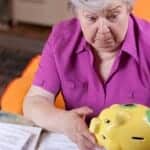 Getting divorced is expensive at any age.  But, the older you are, the more complicated your finances have likely become.
If you are like most middle-aged couples, you probably have a house, several vehicles, and (hopefully) some retirement accounts.  You also probably still have a mortgage, car loans, and credit card bills. On top of that, you might have a small (or maybe not so small) mountain of student loans that you either took out or co-signed, for your children. All of that makes your divorce more financially complicated.
If you or your spouse are involved in a family business – especially a multi-generational family business – that makes your situation more financially complicated still! That's because your divorce will not only affect your finances, but it will affect your business' finances, too. If your kids are involved in your business, your divorce will directly affect their pocketbooks.
The bottom line is that the more complicated your finances are, the more expensive your divorce will be.
Another reason that divorce after 50 causes a significantly bigger financial strain than divorce at a younger age is that you have less time to recover financially after you are divorced.  You don't have 50 years to amass a nice nest egg for your retirement. If you don't have enough money to retire on after your divorce, you may have to go back to work. Chances are, that's NOT the way you ever intended to spend your "golden years."
What's more, if you are left without a retirement account or a financial cushion after your divorce, and you get sick or become unable to work, who is going to take care of you? You may have a new spouse, but the older you get the less likely that becomes. So, the reality is that you'll likely lean on your kids to take up the slack – which is not what THEY ever thought they'd have to do.
So, if you are facing divorce after 50, what do you do? How can you lessen the impact of your divorce so that it doesn't ruin what's left of your life?
5 Tips for Dealing With a Later-in-Life Divorce
1.         Get professional help.
Do not try to go through your divorce alone!
At this point in your life, you have way more to lose than your average 20-year-old. Not only will you need a lawyer to help you, but you are also going to need a financial adviser, preferably one who is also a certified divorce financial planner. S/he can help you understand your finances, and figure out when and if you will be able to retire.
You're also going to need support. If you've been married for decades, becoming suddenly single can be a lot to wrap your head around. Working with a therapist or divorce coach can make your transition easier. Or you can join a support group. The bottom line is that when you're going through a divorce after 50, you need all the help you can get.
2.          Consider alternatives to litigation.
The last thing you need to do when you have a limited amount of time and money is to spend it all fighting in court. The average cost of divorce according to U.S. News and World Report is about $15,000.00. If you have a lot of money, complicated finances, or you live in a big city, the cost can be way more than that. The cost you will spend in years of fighting can also be significant.
For all of those reasons, staying OUT of court when you're divorcing after 50 is essential.  It makes sense, therefore, to investigate divorce mediation, collaborative divorce, and other out-of-court divorce alternatives.  While each divorce process has its pros and cons, it's worth it for you to take the time to explore all of your options so that you can get divorced as cost-effectively as possible.
3.           Take the time to understand your current AND projected post-divorce finances.
Before you agree to any divorce settlement. you must understand your total financial picture. That includes understanding the financial picture that exists right now and the one that will exist for you after you get divorced.
Rushing into a divorce settlement without understanding that it won't provide you with enough money to live on after your divorce can be the biggest financial mistake of your life. What's more, it's not enough to "think" that the settlement is fair on paper. You have to understand how that settlement will work in the real world. (HINT: Working with a divorce financial planner on this BEFORE you get divorced can make a huge difference in the quality of your financial life after your divorce.)
For example, the way you divide your property  in your divorce and what you pay or receive in spousal support may have tax implications that will affect how much money you actually have available after your divorce.   Understanding how taxes will affect your post-divorce finances is critical to making sure that you will actually have enough money to live on after your divorce is over.
You also need to consider whether you can afford to keep your house after you are divorced. Losing your house may be emotional. But you don't want to be house poor. You also don't want to take another financial hit when you have to sell the house later because you couldn't afford the payments.
4.           Accept that after your divorce, your lifestyle may have to change.
While everyone's lifestyle takes a hit in divorce, if you are older, the hit may be permanent.
After your divorce, you will probably have to downsize your lifestyle. You may need to delay your retirement or forget about retiring entirely. (Sorry!) You may need to learn to budget better.  Or, you may need to learn to do more with less.
Yes, all of this sucks.  It's a pity that your golden years may not be quite as golden as you pictured. But denying your new financial reality won't help. Unless you deal with the changed financial circumstances that your divorce causes right away, you may find that in a few years, you will have outlived all your income and assets.  That will suck worse.
5.          If you are unemployed, underemployed, or retired, consider getting a job asap.
If you need to get a degree or some sort of training in order to get a decent job, be practical!  Look for training programs that will give you the potential to make the highest income in the shortest amount of time. (Obviously, you don't want to do something you hate. But, try to find career options that will let you do something you enjoy as soon as possible.)
Even if you will be receiving support after your divorce from your spouse, you should still try to earn as much money as you can while you can.  Remember, there are no guarantees in life! If something happens to you or your spouse and you are no longer receiving alimony, your entire financial future can change in a heartbeat.
For all of these reasons, it makes more sense to live off money that you earn rather than living off a retirement fund that isn't big enough to support you until you die. Remember, the longer you can wait before spending down your assets, the further they will go.
Divorcing Later in Life Isn't Easy
No matter what you do, or who you are, getting a divorce after 50 is going to impact you emotionally, financially, socially, and legally at a level that's very different than how you would have been impacted if you got a divorce when you were 20.  If you want to get through this phase of your life with dignity, grace, and some level of financial security, it pays to take the time to understand what you are facing.
Invest in professional help. Get the support you need. All of that will affect the quality of the decisions you make in your divorce. The quality of your decisions will, in turn, directly affect the quality of your life well into the future.
________
This article was originally written in April 2016 and updated in April 2022.