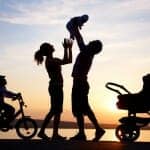 Yogis know it. Philosophers know it. Parents know it: What doesn't bend, breaks. In other words, flexibility – in your body, in your life, and in parenting – is key. But even though most parents understand that to raise happy, healthy, kids they need to be flexible, it is not uncommon for divorcing parents to totally lose that flexibility when dealing with their ex-spouse. Yet, few things are more important to your children'shappiness and well-being (as well as your own!) as maintaining flexibility in your parenting plan.
Now, before I go any farther, let me stop and say: I get it! I understand that its not easy being flexible when your ex-spouse is more rigid than the steel girders in a skyscraper. I know that its difficult to "go with the flow" with your ex and the kids … especially if you've gone through a really ugly divorce. And it's not fair that YOU are always the one who has to be flexible while YOUR EX is always the one who insists on following the terms of your parenting plan word for word. But before you decide that you need to stick to the exact terms of your parenting plan in every situation without fail, let me give you five reasons why you might want to think twice before you become a "parenting plan Nazi."
    1. Its best for your kids. Really. Being a child of divorce is tough enough on a kid. Being a child of divorce with parents who are more worried about enforcing the terms of their parenting agreement than they are with actually parenting their children is even tougher.
    2. Its less stressful. No one wants to live by a set of rigid rules that govern every aspect of their family life. What's more, no parenting plan, no matter how well-drafted, can possibly cover every situation in which you and your family will encounter from the date of your divorce until the time your children have graduated from college. (Unless, of course, your kids are already seniors in college when you get a divorce.) You can either go with the flow as your kids' lives, interests and schedules change, or you can make yourself and them crazy by trying to live by terms of an agreement that might not make the most sense in some situations.
    3. Its less expensive. You say your agreement says one thing. Your spouse reads the exact same words and claims the agreement says something totally different. How do you determine what the agreement really says? Call a lawyer and go to court. What if the terms of the agreement are clear, and your ex clearly violated them? How do you enforce your agreement? Call a lawyer and go to court. What if life has changed and the terms of your agreement don't make sense for your family anymore. How do you change the terms of the agreement if you can't work it out with your ex? Call a lawyer and go to court. (Are you starting to see a pattern here?) The bottom line is that, either you work with your spouse and try to work out the bumps in the road that happen in every family (i.e. you stay flexible), or you go to court and ask a judge to decide what your family should do. Going to court is expensive, stressful, and time-consuming. Maintaining flexibility in your parenting plan and working things out yourself is much quicker and cheaper. It also gives you more control over your own life.
    4. It sometimes has amazing, unintended consequences. Kindness begets kindness. When you treat your ex with kindness and respect (even if s/he doesn't deserve it!) and you do what you know is best for your kids, even if your agreement doesn't require it and its not the most convenient or easy thing for you to do, sometimes your ex pays attention. And sometimes, when you need to change the kids schedule, or you need your ex to do something different than what your agreement says to do, your ex then does it for you. Then, the next time your ex needs a break, you give it to him or her. And then your ex does the same for you. And, before you know it, you're working together as parents much more naturally and peacefully than you ever did before. Of course, there is no guarantee. You may have to be flexible 10 times before your ex ever does the same for you. Or maybe you have to be flexible 50 times. Or maybe your ex never changes. But maybe your ex does. Miracles happen.
    5. Its better for you. I know people who have copies of their parenting plan in their purse, in their car, in their office, in their home. Their parenting plan is their Bible. They consult it for every issue that comes up regarding the children. While living like that might be necessary for a very limited number of people, in a very specific set of circumstances (i.e. in cases of extreme domestic violence), for most people it's completely unnecessary. Its also exhausting! Maintaining flexibility in your parenting plan will not only help your children relax and live a more normal life, it will do the same for you too.
____________________
To read a wonderful article about what can happen when parents really co-operate with each other to parent their children together after a divorce, go to: http://www.huffingtonpost.com/2013/12/13/blended-family-friday_1_n_4435138.html.