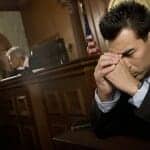 "The divorce judge is biased against me!" "She won't let me talk." "I just want to tell the divorce judge what really happened." I hear people saying this all the time. I can see that they are frustrated and that they feel like the court system is unfair. The problem, though, isn't necessarily that there is anything wrong with the court system (although I'm not suggesting that it's perfect by a long shot!). The real problem is that no one has explained to people how the court system works. Here is how most divorce court systems work:
1.    If you have a lawyer, your lawyer talks – not you. You may be called as a witness to testify in court, but you don't get to argue your case for yourself. That's your lawyer's job. If you don't think your lawyer is arguing your case properly, you need to discuss that with your lawyer after your court appearance is over. If you are really unhappy, maybe you need to find a new lawyer. If you want, you can act as your own lawyer and argue your case yourself. That's your choice. But, so long as a lawyer is handling your case, your lawyer does the talking in court.
2.    Divorce court is not the place where you get to tell your story. Yes, you read that right. The divorce judge does not want to hear all the details of whatever your conflict with your spouse is, was, or may be. The divorce judge only wants to hear the facts that are legally relevant to the issue the judge is supposed to decide. That means that a lot of what you want to tell the judge is simply not relevant. It may be important to you, but if its not legally relevant, the judge won't hear it.
3.    Not every court appearance is designed for testimony. There are lots of different kinds of court appearances. You could be appearing before the judge to present a motion. You could be there for a hearing. You could be there for trial. You could be there for a status call. Each different kind of court appearance has a different purpose, and has been allotted a different amount of time. So, if you appear before the judge on a status call that is designed to take 5 minutes, and you want to go into a 30 minute explanation of how your spouse is hiding money while you are starving to death and can't pay your rent, don't be surprised if the judge doesn't want to hear you. Its not that the judge is insensitive. Its just that there is a time and place for everything and, if the judge has twenty other cases set for status that morning, s/he might not have the time to listen to a long presentation.
So, what do you want to do if you want the judge to listen to you?
1.    Listen to your lawyer. If your lawyer asks you to testify in court, then you will be able to testify. If your lawyer doesn't want you to testify, then keep silent. The truth is that many people get so emotional or carried away when they are testifying in court that they often do more harm than good. So its ok if you don't get to personally tell your story to the judge. As long as your lawyer does a good job of presenting your case, you should be fine.
2.    Don't expect to be able to tell the judge your whole story. Even if you do get to testify in court, if you have a lawyer, that testimony will be relayed in a series of questions and answers. That means, your lawyer asks a question and you answer it. Period. You don't just get to tell your story without interruption. That's not your lawyer's fault. That's just how the court system is set up. If you don't have a lawyer, you will get a little more leeway to tell the judge your story in the way you want. But, if you start getting too far afield, your spouse's lawyer, or even the judge, may cut you off and limit you to talking only about the legally relevant facts.
3.    Do the right thing in court at the right time. Don't try to get the judge to hold an entire hearing at a time s/he has designated for status calls, or other simple matters. Don't try to get your lawyer to schedule an "emergency" motion before the judge when something is not truly an emergency, just so you can get your case heard. Doing that will not put you in the judge's good graces. The judge is much more likely to listen to you when you are presenting the proper thing at the proper time.
4.    Stick to the legally relevant facts. If you have a lawyer, s/he will know what the legally relevant facts are. In that case, follow tip #1, above. If you don't have a lawyer, try to take the emotion out of your presentation to the judge. Don't call your spouse names. Don't exaggerate. Just tell the judge the facts of what happened in as calm and clear a manner as you can.
5.    Don't talk out of turn. There is a time for you to talk, and a time for your spouse to talk. When its your turn, talk. When its your spouse's turn, listen. When the judge is talking, listen harder. If you have a lawyer, try to keep from getting so caught up in what's going on in court that you try to jump in and add to what your lawyer is saying while s/he is saying it. When your lawyer is talking, just listen, and maybe take notes. Then, when the lawyer stops, you can show him or her your notes, or your questions. If the lawyer thinks you have some good points, s/he can then tell them to the judge.